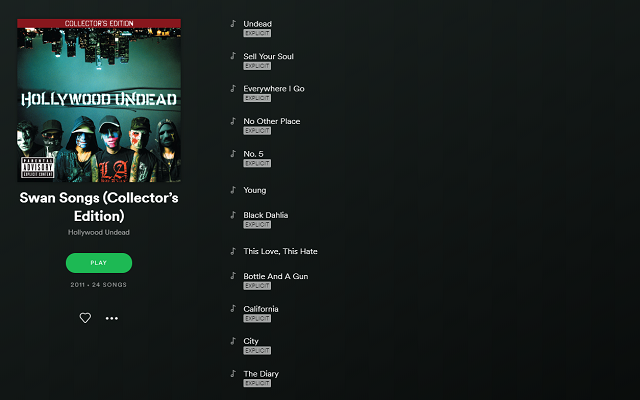 American Spotify users can finally rejoice as one of the major missing pieces of Hollywood Undead's discography has finally been made available on the streaming platform.
Originally released exclusively on iTunes on April 4, 2011, the Swan Songs Collector's Edition dropped the same day as the band's sophomore release American Tragedy. 
The Collector's Edition featured the original 14 track debut album by the band, four tracks that were originally retailer exclusive bonus tracks or available as the collected Swan Songs B-Sides EP, 2010's three track Swan Songs Rarities EP, and the Black Dahlia Remixes collection that was previously only distributed as a radio exclusive single CD.
For years, the 24 track release was only available via the iTunes store.  Many other regions and countries would eventually have the collection added to their respective Spotify catalogs, but the United States was always left in the dark.
Thankfully for streamers and non-Apple fans alike in the United States this ultimate Swan Songs collection is finally available in its entirety on the Spotify platform!  The release was finally made available stateside several days ago, leaving many international fans wondering "wasn't it always?".
Newer fan and curious about what songs are different on this release versus the standard or clean editions of the album that were already streamable? Here's a list of the additional tracks to ease your playlist building struggles!
Pain
The Natives
Knife Called Lust
The Loss
Bitches
The Kids
Circles
Black Dahlia – Buffalo Bill Remix
Black Dahlia – Lo Fidelity Allstars Remix
Black Dahlia – The Pharmacy Remix (featuring Rama Duke)
The album can be streamed in its entirety over at Spotify via this link.