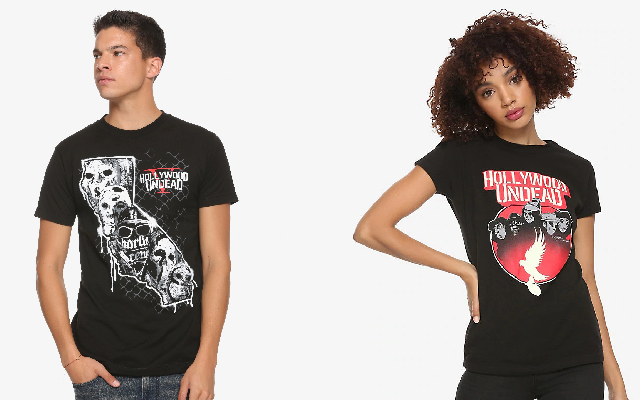 New year, new merch…or something like that!
Music and pop culture clothing store Hot Topic has added a new batch of Hollywood Undead t-shirts to their online storefront, and for now it looks like these designs are being sold as online exclusives, meaning you won't be seeing them at your local Hot Topic up on the wall with all the other band shirts like some past releases.  As of this writing, Hot Topic is currently running a 30% off sale sitewide on most items, so now's as good a time as any to grab some of these shirts, especially if you like the designs and your sizes are still in stock!
First up is the California Faces T-Shirt, which, who are we kidding here, these are masks.  The official description gave this writer a bit of a chuckle, since its not clear the author knows these aren't generic horror icons depicted on the dripping California outline (the tattered chainlink fence is a nice touch though!)-
A Hollywood Undead graphic on a black T-shirt features a chilling assortment of masks and horror faces. The band logo appears in front of a red "V" alongside the California-shaped graphic.
You can grab yourself one here, though it looks like this design is selling out quick.
Next on deck is the more appropriately named Brick Masks shirt.  See Hot Topic, masks!  This shirt's description is a little more in the loop HU-wise, and features the same Five mask designs used on the VIP tour merch and the Ultimate Bundle pins.
Undead!  Charlie Scene, Danny, Funny Man, J-Dog and Johnny 3 Tears are here and ready to wreak havoc. This black tee features "Hollywood Undead" text design and the 5 members' masks in a street art design.
Finally, for the ladies we have the Dove Grenade Girls T-shirt, featuring the classic Hollywood Undead emblem with a gray-scale version of the Hollywood Undead Origins comic cover art with a striking red backdrop for contrast.
Undead!  Your favorite band is back! No surprise, they are "Undead" after all. This black tee from Hollywood Undead features an illustrated image of the band members with their dove and grenade logo.
With a new album due out later in 2019, these may be some of the last pieces of merch that we get featuring the designs and iconography used for Five.  Hopefully there will be much more to share for merchandise and bundles as we get closer to that release!