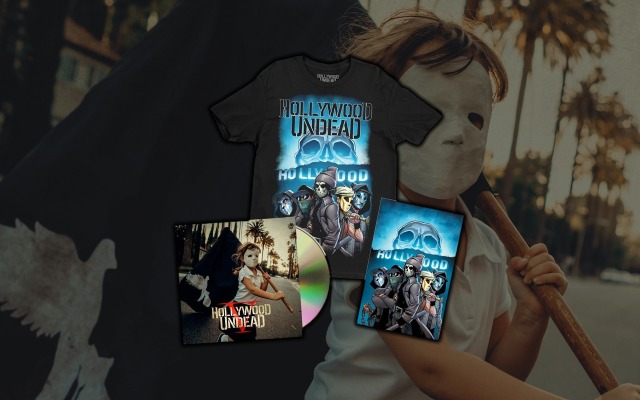 It's a very small list of bands that can claim they've had their own comic book published and now Hollywood Undead can add their name to that list.  On December 6th, Hollywood Undead will partner with Heavy Metal Magazine to star in their own comic: "Undead Origins."
Written by Paul Allor, the comic follows Hollywood Undead's members as they discover a deep conspiracy; all across Los Angeles, people are acting unnaturally happy and compliant. People in the counterculture are suddenly fitting into society, finding square jobs and loving them. Is it clones? Robots? Alien replacements? The crew discovers that in reality, it's a system of mental and physical alteration, funded by a powerful tech mogul-turned City Councilman. And what's more, the "victims" aren't victims at all; they're undergoing the process voluntarily. But our guys won't stand for that. They work to destroy the facility, assisted by like-minded people from across the city.
This 56-page comic ties in with the release of Hollywood Undead's fifth studio album: 
FIVE
.  The issue will hit retail shops on December 6
th
, however fans can order it 
directly from the band's web store,
 and receive it around the street date of their new album.
The band's official store gives fans the option to order the comic or a long sleeve T of the cover art by themselves, or in the form of various bundles with other V  and Origins themed merchandise.