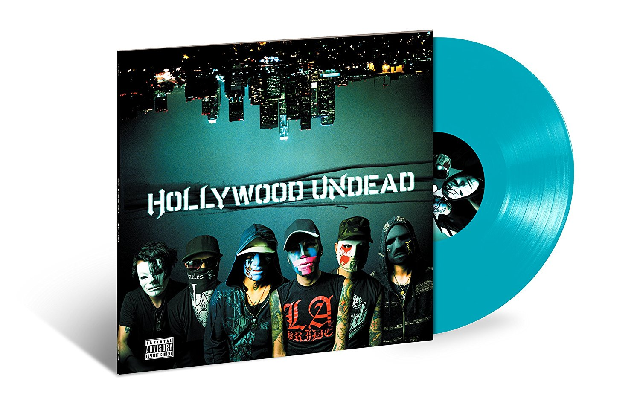 Hollywood Undead's former label, Interscope, dropped a bit of news under the radar yesterday in commemoration of the 10th anniversary of the band's debut album, Swan Songs.  However, all interested parties may not be celebrating this anniversary release.
In fact, none of the band or members' social media accounts or the accounts of their current management team at MDDN have posted anything promotion of the recently announced vinyl, adding another wrinkle to the discussions surrounding this release.
As many fans will remember, Hollywood Undead was originally signed with Interscope before their deal was shifted to A&M Octone, leading to the release of Swan Songs in 2008.  When Octone all but disappeared a few years ago, the band and their contract for five albums was left in limbo whilst they were working away on their fourth record, Day of the Dead.
While the band's contract would ultimately end up being picked up by Interscope, helping to facilitate the release of Day of the Dead prior to negotiating an early release which allowed the band to go independent, the publication rights to the band's back-catalog was somewhat of a mystery until now, as there was no guarantee that Interscope would have assumed legal rights to everything in A&M Octone's catalog.  Yesterday's announcement seems to have put that issue to rest, confirming that Interscope has the publishing rights for older Hollywood Undead material, or at the very least for Swan Songs.
It seems the announcement even caught members of the band off guard, when reached for comment Johnny 3 Tears responded to Scene for Dummies with the following: "It's just a cash grab, and it was without our permission,".
"It's just a cash grab, and it was without our permission," -Johnny 3 Tears
Interscope's press release also left longtime fans slightly puzzled when they described the upcoming reissue as "the album's first-ever vinyl release,".  Undead faithful who have been blasting Swan Songs for the last ten years will know this to be false, as the album was available on vinyl (albeit in a clear/silver color and double sided LP format), and also came bundled with t-shirts available directly from the band's official web store and are still readily available on the secondary market from re-sellers.  The anniversary reissue is the first time the album has been released in a dual LP format though.
This wasn't even the only release of Swan Songs on vinyl, as the album was also sold in picture disk format, again on a single record!
Though the album has already been RIAA certified platinum, sales of the dual LP vinyl will likely still count towards lifetime units sold for the album, as well as generate some sort of royalties for the band and other musicians who helped craft the music at the time, but the lion's share of the sales will likely go back into the band's former label's pockets.
Fans still interested in the reissue can pre-order the standard edition of the dual LP from Amazon.
In addition, 500 copies will be available in exclusive blue vinyl from uDiscover for an additional price markup.
In light of this news, Scene for Dummies will not be promoting this release in the same fashion we did for last year's Five.
We have reproduced the original press release from Interscope below-
In 2008, Hollywood Undead's explosive, platinum selling debut album Swan Songs rose from the streets of Tinseltown, delivering a raw, edgy mix of rock, hip-hop and metalcore. Building an enthusiastic fan base through social media, the band whose members wore stylized masks on stage grew to include six members: J-Dog, Tha Producer, Charlie Scene, Johnny 3 Tears, Funny Man and Da Kurlzz.
On May 11, Interscope/UMe celebrates Swan Songs' tenth anniversary with the album's first-ever vinyl release, in a specially packaged, two-LP edition, as well as a limited edition, two-LP set on 140-gram blue-vinyl. Only 500 copies of the blue-vinyl version will be pressed and available exclusively from the online retailer uDiscover.
The 14-song album encapsulates the brash, rebellious attitude that's kept Hollywood Undead going ever since. Throughout Swan Songs, Hollywood Undead deliver sharply humorous raps that slash at the jugular of mainstream pop culture, with tracks like "No. 5," "Undead," "Sell Your Soul" and "California" reflecting a dark, transgressive aesthetic that comments on their hometown's depravity.
Despite the controversy and threats of censorship that accompanied Swan Songs' release, the album reached No. 22 on the Billboard Top 200 and spent more than a year and a half on the album chart. It also proved to be the kickoff for a long and productive career that's established Hollywood Undead as a reliably popular act, spawning the successful subsequent albums American Tragedy, Notes from the Underground, Day of the Dead and Five.
Now, with this anniversary release of the album that started it all, the Hollywood Undead experience is more compelling than ever on heavy-duty vinyl!