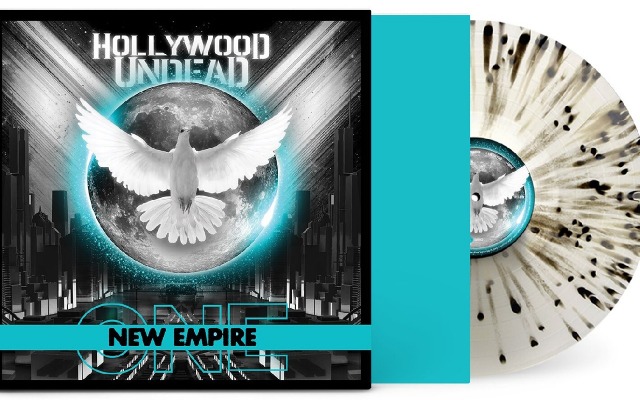 With Hollywood Undead's forthcoming sixth album, New Empire Volume One, just over two months away from release, retailers have been throwing up pre-orders left and right for the album, including a bevy of exclusive vinyls that far outnumber any of the band's previous releases, but first off let's cover the (so far) only exclusive version of the New Empire Vol 1 CD.
Amazon UK Exclusive Autographed New Empire Volume One CD
Amazon UK is taking preorders on a limited release of the CD, signed by all five members of HU.  The album also includes Amazon AutoRip, which gets purchasers a digital copy of the album automatically upon release to save you the hassle of ripping the tracks yourself.
Now onto the (apparently) wide, wide world of New Empire vinyl pressings!
As we previously reported, the official Hollywood Undead store is now taking orders for the standard version of the album vinyl, including bundles with other merchandise.  This regular version is also available from a variety of music shops online like MerchBar.
New Empire Volume One Transparent Aqua/White Splatter Vinyl
The next version of the LP features transparent aqua vinyl with white splatters.  So far as we can tell, this release is an EMP exclusive for now.
New Empire Volume One Cloudy Clear/Opaque Black Splatter Vinyl
This version features a cloudy press with black splatters, and seems to be more widely available from other music shops.  Other than the EMP link provided above, we've found listings for this version at Nuclear Blast and Resident Music as well.  According to Resident, this version is limited to 1700 copies.
New Empire Volume One Cloudy Clear/Blue Splatter Vinyl
Fourth up is similar to the previous version, but trades its black splatters for blue, and is reportedely limited to 100 copies.  The link we've provided above is via Townsend Music, we've also found a listing for this version on MerchBar.
New Empire Volume One Transparent Aqua/Black Splatter Vinyl
Next we've got the aqua press with black splatters.  Banquet Records lists this one as "high street retailers edition" in the images section, but also features a note saying that this pressing is exclusive to HMV and indies only.  We've also found a listing on Resident Music that claims this version is limited to 1000 copies and is only available at selected retailers.  As of this writing, the HMV store page does not have a preorder for this version.
Finally, there's this bizarre Impericon listing that just shows a black pressing of the album.  Since the listing makes no mention of the vinyl color, we're not sure if this is merely an early mock-up that got uploaded by mistake, or if a black version will be available from some retailers.