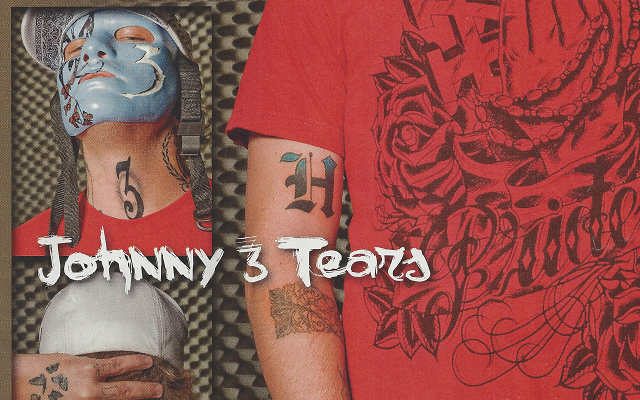 As promised in yesterday's gallery post featuring scans from Hollywood Undead's appearance in Tattoo Magazine circa April 2010, we've got the plain-text write up of the accompanying article and interview originally written by Tatto's Frank Booth. We've linked the images for each page as well for your convenience. Read on below-
Table of Contents
Tattoo
World's Largest-Selling Tattoo Magazine – April 2010 – Issue 248

Specials
32 Hollywood Undead
Page 32
The band members are mike men Deuce, Funny Man, Johnny 3 Tears, and Da Kurlzz, along with Charlie Scene (guitar, vocals), J-Dog (keys, guitar, vocals) and touring players Daniel Murillo (vocals) and Biscuitz (drums). They are cheerfully vulgar, heavily inked, mosh pit-friendly, and concocted with equal parts spite and musical might.
Page 33
Hollywood Undead
Photography by Markus Cuff
A Generation of Social Networking
In the annals of rock history of the 21st century, Hollywood Undead will be remembered as a MySpace generation band for doing through social networking what rock bands for decades have done through shoe leather: passing the word, getting their songs listened to, and building a fan base.
The band, formed in 2005, recorded a handful of tunes and quickly racked up a zillion spins on MySpace. But record companies were skittish about the vulgarity quotient in the masked band's songs whose lyrical terrain pretty much begins and ends at the high school locker room. Nevertheless, propelled by their rent-a-party buzz, Hollywood Undead was signed to A&M/Octone in 2008 and the music has flowed unceasingly, starting with an ironically titled debut Swan Songs and, most recently, a CD/DVD set dubbed Desperate Measures.
While they do hearken to the sounds-not to mention the carpe diem attitude toward women and partying- fashioned by Eminem, Limp Bizkit and Slipknot, Hollywood Undead also have gig all their own. The Los Angeles-based band was on tour in Europe at the time of the interview, and rapper/percussionist Da Kurlzz was the only member of the band available to take the call. He and his bandmates have a fair amount of work done by Connor Garrity at Timeless Tattoo in Los Angeles.
Page 34
Funny Man
J-Dog
Charles Scene
On the new Desperate Measures, the guys keep the microphone patter about screwing the system and the ladies but also work in some pop stylings to good effect. Although the language is still not radio-kosher, "Dove and Grenade" lays a thick Nine Inch Nails-ish industrial glaze over things as they assert "you're scared of us because we influence your kids/you paved the way that we walk/and you dug you grave it won't stop." Meanwhile, on "City," they chant "let's watch this city burn the world." It's good-time thuggery with a slamming beat.
Page 35
Johnny 3 Tears
Vatos Locos, a package tour whose name means street gang or "crazy guys," paired HU with Atreyu. It was an inspired combo, the veteran Atreyu with the upstarts, both from Southern California, both tearing up the stage with metal-slash-rap.
On the Internet, that post-modern launching pad for the 21st century arts, the chatter on the group has a love 'em and hate 'em dichotomy. Album and concert reviews range from being scathingly dismissive to, more commonly, recognizing the visceral appeals of these ranting rappers. Lest anyone underestimate their level of popularity, note that the band has a MySpace photo album with dozens of pics of HU lyrics and images tattooed on unidentified bodies They've got several pages of "Dove and Grenade" flash alone.
Page 36
Deuce
Hollywood Undead is a band of style and spectacle, which is as old to rock music as Hendrix's flaming guitar and Alice Cooper's boa constrictor. But the sound is a fiercely modern melding of rap, metal, and industrial with NC-17 lyrics that has found a growing base.
No matter the verdict on them as musical artists, this much can be said: Hollywood Undead have whip-smart brains behind the gaudy show of stupid, crossing over the fluid boundaries of entertainment commerce. Their theme song "Undead," a customary opener to their concerts, appears on the soundtracks for Madden NFL 09 and the UFC 2009 Undisputed. Videogames have followed suit–good-time masked nihilists unloading the crunkcore with sylized glee. Soon there will be a line of brand-name clothes called Dead Cultour to with it all.
-Frank Booth
Proceed to checkout www.hollywoodundead.com.
Page 37
Da Kurlzz
The Brutal Truth
"I still have a lot of real estate left on my body, but I am very happy with what I have," Da Kurlzz said. Animals have a stake in his skin, notably a portrait on his right forearm of a late, lamented cat named Bar. "I just started my chest piece in October before we left for our Vatos Locos tour. It's of Cerberus, the three-headed wolf/demon-dog and so looks pretty awesome. I'm on tour and also too pussy to get more done on it," he said with a laugh. "It was brutal."
Da Kurlzz has a sleeve on his left side with a black-and-gray work patterned after imagery by famed Polish fantasy artist Zdzislaw Beksinski. It all dovetails with his music-related pieces. "Well I definitely have band artwork that I've collected over the years since I was eighteen, mostly from just liking the artwork, but some have become more of a representation of how I view life," he said. From the annals of music history he dipped into album cover art, including Poison the Well's You Come Before You and Scarlet's Cult Classic.
It's part of Da Kurlzz's dichotomy of something beautiful turning into a man juxtaposed by the downfall of man. On one leg he has an image of a flower turning into a man and a luminous beating heart in the center; blue skies and birds accouter the piece, complemented on the other leg with a counter-motif, the downfall of man. The latter depicts a man with a gas mask and needle-arms and a chest with cranks and bolts like a clock. He steps into a pool of mud in an apocalyptic scene of scorched skies and burning buildings.
"Overall it is something beautiful ultimately facing its demise," said the microphone man. "Deep, huh?"