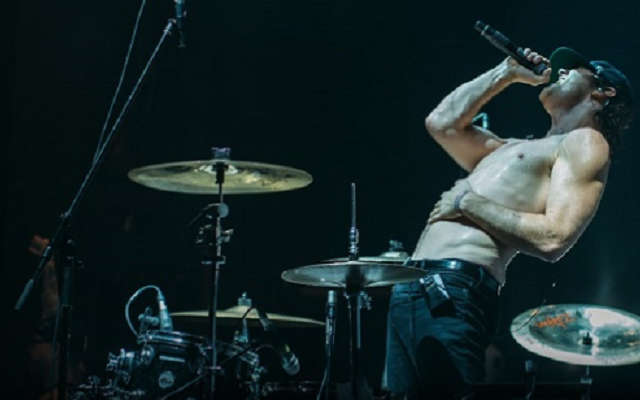 The latest touring drummer for Hollywood Undead, Matt Oloffson (who also plays in Charlie Scene's Han Cholo and his own band, No Darling) did his own bit of press during the band's recent run through Russia with Ksenia Yachmeneva of RockCult.ru.
Our readers who may be well versed can read up on the original interview at the official Rock Cult website in its original format.
We've also provided a rough automated translation below for our English-speaking audience.  While the auto-translate comes off a bit rough in patches, there's still some interesting tidbits on Matt's views on life, Russia, and how he met Charlie Scene, read on for more-
Let's get acquainted with the new Hollywood Undead drummer Matt Oloffson: find out what he thinks about Russia, and do not count how many times in songs HU the words fu*k and Charlie Scene are repeated.
Yo, everybody fuckin hi, I'm Matt Oloffson!
The first thing you should know about me is my name Matt. Matt the Kat. You can call me Jim.
The second thing? Hmm .. I love coffee! (A good habit, better than the habits of Charlie Scene.) If you understand what I mean.
I'm a foolish romantic: I love nature and long walks.
Fortunately, I'm the drummer of Hollywood Undead.
My example in life is David Hasselhoff. He did not lose his coolness even after Bay Watch. Be sure to look at him, KIDZ!
Matt the Drummer:
Guys, I'm also working on the No Darling project. Listen to my album After the Rain. I think this is a great cocktail of art-rock and soft lullabies. The last envelops your soul. I believe in it. I write the lyrics myself, I sing, and, of course, the drums on me. I'm dancing! This is my group, and … I can smash everything around and nothing will happen to me! Paradise, bl …, enjoyment …
Yes, so I catch Zen.
When I created the cover of the album After the Rain, I was inspired by the song of John Lennon Giving Peace A Chance, from time to time I thought about my hot girlfriend. Hell, at work I drank so much espresso that I lived in a state of psychosis. Pleasant madness.
Shock (in my humble opinion) – this is the best tool in the world! On the drums it's hard to play fake, there are no notes. I constantly smile at the installation, this is the best way to raise my spirits.
When you take the drum set, you do not look at the surrounding circumstances. You are tired, you are sad or happy … For me the world ceases to exist. Yes, I hide behind my plates and a barrel.
My first cover is The Surfaris Wipe Out. Dedication to the father.
A real drummer is one who plays passionately! Just? Perhaps, but it is so. Although, there was one dude – Gene Krupa. He was a tough cat. And he played in a suit! [Gene Krupa is an American drummer-virtuoso, a swing star].
My inspiration … – it's not! I try to go with the flow, live the moment. My advice – be on the alert! Do not look for idols, you are treasures, so follow your desires. And I'm inspired only by music!
I'll have time to create another ***** (funny incident) before you say Meow.
So. My … It's too late !!
I am a strong person, because I accept and overcome my weaknesses. Everything I achieve in my life is due to my inner core and passion. Guys, do not hide your inner fire. But remember: fire can warm, and can burn.
I'm not "Matt the Drummer". I'm "Matt the Kat". (Matt – cat, just remember.) It plays, despite the paws.