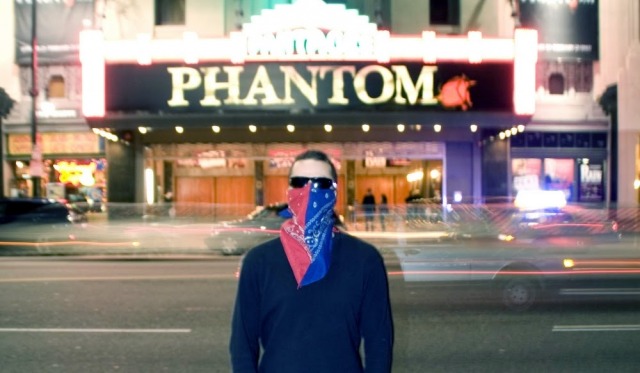 As of this Fall, 2008's Swan Songs has been on shelves and in iPod's for half a decade. Fans have had years to dissect the lyrical content of this premiere album by Hollywood Undead, but recently a few obscure references found in the album's lyrics seem to have stirred up some confusion in the Undead Army. Who the f**k is The Phantasm?
The first reference to The Phantasm happens on the third verse of Undead, J-Dog exclaims:
J-Johnny to my left. Got Phantasm and the rest,
Several tracks into the album, on "No Other Place" towards the end of Funny Man's second verse he makes reference to "The Phantasm":
Shooting craps with The Phantasm, dude think he's getting paid!
But who is The Phantasm? Early popular fan theories elected that "phantom" may be a nickname for Da Kurlzz. The other leading theory, as of this writing, is that The Phantasm is a former member of Hollywood Undead who left shortly before Swan Songs was produced. Both of these theories are just that though, theories. Fear not though HU Soldiers, we here at Scene for Dummies are ready to drop some knowledge for everyone.
Fans were first turned onto The Phantasm as being a possible former HU member when they discovered this old picture originally hosted on The Phantasm's MySpace page. The original caption mentions that he was (at the time) helping the band with mixing. His masked appearance in an otherwise official looking photograph lead many fans to believe this affiliation was more than just collaboration, and that he might possibly have been a full-time band member.
You aren't here for fan speculation though, so let's get to the facts. The Phantasm is one of several pseudonyms adopted by Los Angeles-based mixer and vocalist Justin L. Roman. Justin has been active in the music scene of LA for over a decade, playing DJ sets at local clubs, producing tracks for other artists, and putting out his own solo material. His original MySpace account (before MySpace totally redid their site) was simply myspace.com/phantom.
We'll go in chronological order for most of this information, so let's start with a Wayback Archive of his old MySpace account, most of the pictures are the ones you've probably seen lately, an individual with shades and a red/blue bandanna. Key things to take note of here though are his label (Panther Entertainment) and his top friends:
Hollywoodland Magazine (a Hollywood based magazine that J-Dog is heavily involved in producing), Hollywood Undead themselves, Killtron (best known for making lyric videos w/ Funny Man for NFTU tracks, doing the We Are remix w/ J-Dog, and being a member of HU side projects Bastard Wax Krew and Dead Planets), and… Science?
One of the top 4 friends is "Science", MySpace page located at myspace.com/thescientist. Hmmmm, now where have I heard that name before?
I got arrested with Wes and The Scientist

– J-Dog on "The Natives"
The Scientist MySpace page is put together as a band page, and makes it seem like The Phantasm and The Scientist are both members of a band simply referred to as Science. His friend's list is also peppered with notable individuals: the main man in question, Phantasm; former Deuce hype-man and longtime collaborator + founder of the 9 Lives brand, The Truth; Hollywood Undead; Killtron; and former 9 Lives contributor and rapper Serve. A star studded cast of notables from both the HU and Deuce camps even years later. Science's page also mentions an album "Uptown Midnite".
Stay with me here, cause we're going to connect all these dots, but googling "Uptown Midnite" pulls up an album by an artist named… Laphayette? Who the hell is Laphayette?

Laphayette - Uptown Midnite
His personal website, aptly named laphayette.com, has the answers. There's a lot of stuff on here about his music career, and some of his photography, videos, and the smoking guns that tie this whole thing together: The Phantasm, The Phantom, Science, The Scientist, and Laphayette are all the same individual going under various stage names over the better part of a decade.
The guy's full name is Justin Laphayete Roman, his music is really unique and laid back, we recommend you give it a listen and maybe purchase some of his stuff to support him if you enjoy it too. The old Panther Entertainment site even still maintains that Laphayette and Phantasm are two separate individuals!

He's produced tracks for his various solo outlets and other artists under his label "Panther Entertainment" for the better part of a decade, and more recently has been involved with helping record for Bastard Wax Krew, and mixing with Hollywood Undead, most notably the We Are remix with J-Dog and Killtron.
Hollywood Undead tweeted in early 2010 advertising the Science MySpace page, claiming there would be a collaboration on their next album (what would ultimately become American Tragedy), but nothing ever materialized. Whether this is a side effect of A&M/Octone having creative control and blocking that track from making the final release of the CD, or if it was indeed a more behind the scenes mixing job on Justin's part remains to be clarified. Either way, between his musical endeavors and Hollywoodland Magazine w/ J-Dog, Justin is still very much a part of HU's social circle, and isn't some mysterious figure from the early days of the band that disappeared with time. His Scientist bio further clarifies that he was not actually a member of Hollywood Undead, but just collaborated with the band.
Now, I've had enough with the text blurbs and pictures, how about some music and videos? The main Laphayette Youtube channel can be found here: youtube.com/laphayettetv. Avid HU fans will remember the band tweeting about the "All Nite for You" video around the time of American Tragedy Redux release.
A quick clip in the video shows one of Justin's children with the band, circa American Tragedy era in full non-concert masks. Speaking of American Tragedy Redux, if you feel like you may've seen Justin's face before, you probably have! He appears in the stairwell scene with J-Dog for the Levitate video.
So one last chunk of history, we'd be remiss for not covering Laphayette's past involvement with the Nine Lives movement. Truth and Science actually collaborated on a song early in the days of Nine Lives, titled "So Far". You can listen to the song here, though copies of it on YouTube are much sparser than they used to be.
At some point Science and Truth also had a falling out, likely in part due to J-Dog and Deuce's split being anything but amicable. An older photo floating around the Internet shows Laphayette, J-Dog (with his back turned to the camera), The Truth, and Daniel Dart of the band Time Again.
Most people reading this article will probably recognize all of those names except Daniel Dart. Time Again? What is that, right? You can read more about their story over here: en.wikipedia.org/wiki/Time_Again. Time Again once featured as one of HU's top friends on MySpace, and their logo looks pretty slick too.
Hmm, I feel like I've seen that logo before? Take a look at Johnny's second mask from the MySpace era:
Full circle.
---
Follow Laphayette: