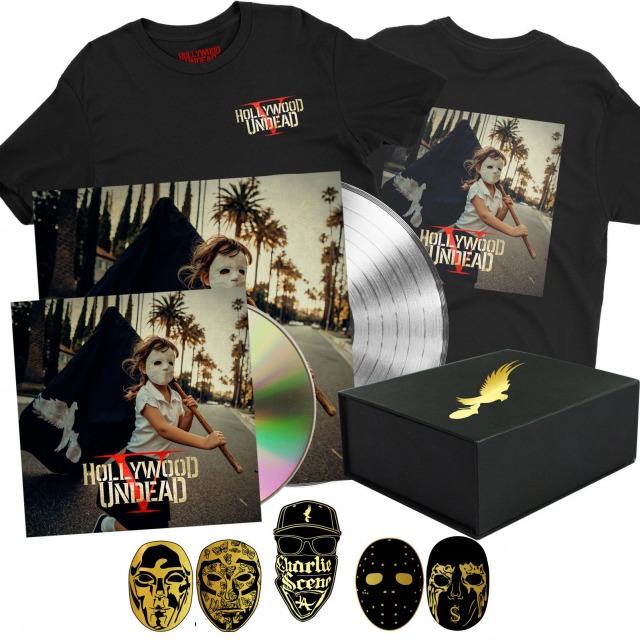 This one hasn't slipped past us, but we are a little behind what with all of the news revolving around the band's latest album, V.
With the re-launch of the official band website, fans are also treated to a brand new store experience. For now, the site is focused entirely on pre-order options for the new album, though with the upcoming tour this Fall, maybe we can expect more diverse merch options further along in 2017. If you are interested in pre-order options for V from the band's new storefront, we've got you covered with details below.
$15 nets you the album on CD. This is the most basic option if you want a physical copy of the album to add to your Hollywood Undead and music collections.
For all you analog connoisseurs, an extra Hamilton (for a total of $25) gets you a vinyl copy of V. This time around, the album will be pressed in a metallic silver color.
If you really like the look of the new album art, $45 gets you the CD/t-shirt bundle.The front of the shirt features a "Hollywood Undead – V" logo on the front left chest, and the full album art displayed prominently on the reverse. Pre-orders get download codes for the new single, "California Dreaming", and an MP3 copy of the entire album delivered to their inboxes on the launch date in October.
Enjoy vinyl?  Also really want that t-shirt? Then fear not, the V Vinyl Bundle is for you! Retailing at $55, this bundle also gets you "California Dreaming" at checkout, and a digital version of the full album in MP3 format just like the CD bundle.
The end-all, be-all V experience is the Ultimate V Bundle. At $100, avid fans get the CD, vinyl record, V t-shirt, instant access to "California Dreaming" MP3 downloads, an MP3 copy of V on October 27th delivered digitally, a pin set featuring masks for the five members for the new record cycle, all bundled up inside a matte black box with a gold dove and grenade adorning the top. If you're gonna get a bunch of fancy goodies, you might as well have a fancy box to store them in! We have pre-ordered our own copy of the Ultimate V Bundle, and will be providing a pictorial review once we have received our copy later this Fall, so stay tuned for that!
For now, if you're interested in any of these purchasing options for the new album, be sure to hit up the new store, and don't forget to sound off on social media and let us know which version you're pre-ordering!