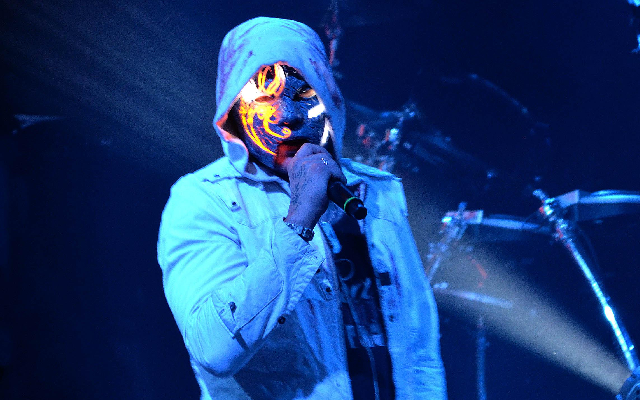 Musik Universe recently had a chance to interview Johnny 3 Tears while out on the North America 2017 Tour.  The two discuss venues, the Five release party, his favorite tracks from the new album and more.  Our French-speaking readers can read the original interview over here on the Musik Universe webiste.  We have reproduced an rough Google Translate of the interview below for our English-speaking readers-
Written by  Caroline St-Hilaire Paquet
Musik Universe had the opportunity recently to speak with George Arthur Ragan, better known as Johnny 3 Tears , about Hollywood 's newest album, Undead , his tour, and the departure of Da Kurlzz.
Musik Universe: Thank you very much for giving us this interview.
Johnny 3 Tears: It's a pleasure to talk to you.
MU:  Being a mega fan of your band, I know you're touring and you have a concert tonight. You're going to perform in Las Vegas, are you?
J3T: Yes, we are currently on our way to get there. We will play Pearl Theater at the Pearl Casino Resort. We played last night at the Roxy Theater and today, we got up early to make the road to arrive on time at our next show. We have a big day. We work very very hard, we are tired, but we are happy to go play there.
MU:  And your fans are happy that you go there too! By the way, your tour started at the beginning of October. Already, you have gone to about twenty American cities. How are things going so far?
J3T: Very good! We are happy to see that so many people follow us year after year and that new fans are added after each release of album.
MU:  Speaking of album, Five is out recently: he's great, like everyone else! Many fans fail to determine their favorite song on the new CD. On your side, is there one that you like more than others?
J3T: I do not really have a favorite, but there are two that I particularly like: Pray and Broken Records . In fact, I like all the songs on this album, each one has a feature that makes it special. Pray and Broken Records are the ones in which I recognize myself the most. I have an emotional connection with them. The lyrics speak to me a lot. But I like the other songs too.
MU:  About "other songs," you recently said you wrote more songs, but they could not be published on the album. What do you plan to do with these secret songs?
J3T: Indeed, we have parts in reserves. We do not know yet what we will do, we are disappointed that they do not end up on Five . We will perhaps be part of the album to add them or they will end up on an EP … We are not sure yet what we will do, but they will certainly be published eventually.
MU:  We, the fans, can not wait to hear these songs. In addition, we always want more!
J3T: We know it, that's why we love you so much! You keep us alive. We like to compose and you like to listen to us, so we will certainly continue to write and release new songs. Of course, for now, we just released a new album, so the next will not be for now, but we will continue to write, perhaps even during the tour.
MU:  Great! By the way, regarding your tour and your new album, we quickly noticed the absence of Da Kurlzz. You have already explained that he has left on good terms and that there is nothing more to say about it. Will his departure change something in your musical style? Does it affect you?
J3T: No, no … In fact, it's sure that his departure affects us personally, but that will not change the group. We will still do the same thing we have always done.
MU:  Do you plan to find a replacement for him?
J3T: No, we do not expect to find another drummer. We do not think to replace it, there is no one to replace in fact. We have a drummer who follows us on tour and it will stay like that, I think.
MU: Okay. As for the tour, concert dates have been announced, but no stops in Quebec are planned for the moment. Is it possible that it changes and you go through Montreal?
J3T: We're going to Montreal. To be honest, we love Montreal, we love to play it. I do not know when, but we will come. Seeing that we went to Canada but did not stop in Montreal, I was very disappointed. I called our agent to ask him why we were not going there. We'll go, that's for sure. We really like this city. We do not know when, but we will, without a doubt, spend there.
MU:  You will make happy! We are waiting for you !
J3T: We'd like to go back to Rockfest too. We've been there before, it was great.
MU: Many fans of this festival would like to see you there too.
J3T: We'll see where we go, whether in Montreal, Quebec or Rockfest.
MU:  No matter where you go, your fans will be there. Thank you again for giving me your time. I wish you a great tour and I hope you will soon announce that a Quebec city will be your host soon.
J3T: We wish it with all our heart! See you soon !