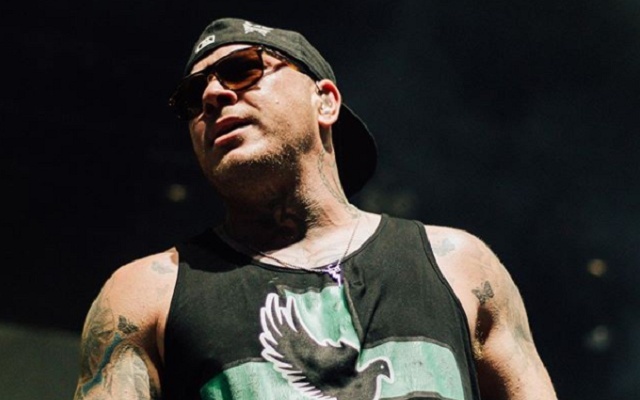 Here's another non-English interview with Johnny 3 Tears, this time by way of Jordi Meya for Rockzonemag.com.  The original Spanish interview is available in full on their website, while we've provided a by-hand English translation for our readers.  Meya and J3T discuss the then imminent New Empire Volume One, the band's first visit to Spain, System of a Down, the "numetal" nomenclature and more.  Check out our translation below-
This upcoming month will be your first time playing in Spain! What took so long?
We've been trying to play in Spain for two years. Actually, we had two shows locked down in Spain, but weren't able to play them. But we're finally able to and we're all really excited.
For a band that's been active for 15 years, it must be exciting to play in a place like that!
It is because it doesn't happen very often. We're going to Greece and Spain for the first time on this tour, so we'll finally be able to cross them off the list after playing so many times in Europe. We're happy to finally be able to see our fans from there!
You're ready to drop an album called New Empire Vol. 1 on February 14th and you've said that in this album, the band reinvents itself. In what sense?
As a band, we are always progressing and we've experimented with industrial and hip hop. Every band has gotten to a point where they find what works for them and has tried to do the same thing over and over because it's what the people want, but we have decided to take risks and do something different. We don't know if people will like it or not, but it's distinctive. We actually have 2 albums recorded, and they both have Hollywood Undead elements along with a bunch of other new things. It's important for us to keep enjoying making music.
It's to my understanding that you have a few well known guests. Can you confirm that?
Yes. We have Benji Madden from Good Charlotte on the first one as well as Kelvin Quinn from Sleeping With Sirens. We also have some on the second one, but it's probably best to not say so no one will get mad at me. In the previous album, we had B-Real of Cypress Hill and we loved having a guest featured. Especially if it's a friend of ours. It's fun working with other people. We might invite another rapper, but it's still in the air.
So is the second album done or are you still working on it?
It's done. It's already mixed and mastered. But we want to try some things and we have time since it'll come out well into next year. We'll still be able to change something if a good opportunity comes up. That's the plan.
Looking back, what would you say were the most significant moments in your career?
Maybe the first time when we signed with Interscope. When you start playing, you go through different bands and in the back of your head, you're always thinking that you won't make it because it's a very competitive business. So when we signed to Interscope back in 2004, to me it was crazy because it was something that I never thought would come; to make a real album with your picture on the front. It was like a dream. It's surreal being able to have played shows with bands I look up to like System of a Down. They were my favorite band and still are. Everything else has been shit (laughs). Just kidding (laughs).
Besides being a fan, as a musician do you understand why System hasn't recorded an album in years?
Serj makes music on his own account and Daron with Scars on Broadway and I understand that they're busy, but they're not System of a Down. I wish they would record an new album like everyone else, but at the moment I don't think that will happen anytime soon but I hope it will. They're very creative people. They have a unique vision. Those guys grew up in a good next to mine called Little Armenia and I remember when they started playing in clubs on the Sunset Strip before they had a record deal, so I've been following them since the begging. They inspired me a lot and I still love them.
You brought up numetal being underground. Do you think you helped it stay alive while others strayed away?
Mmm….to be honest we've never considered ourselves a new metal band. We've played with a lot of numetal bands and we have similar elements. Maybe that's why you associated us with it, but honestly I don't think numetal will ever go away. Bands like Korn and Deftones have always been here. Maybe when bands like The Strokes or The Hives arrived, rock moved forward, but numetal was always there. I prefer it that way because it makes the bands not worry about sales. Deftones always puts out great album after great album and I think it's because they've had more freedom. But like I said, we don't see ourselves as numetal. More like Beastie Boys with heavy guitars.
Truth is, no band really classified themselves as numetal.
It's because I never understood which era was numetal. There were so many unique bands that I think it was difficult to define them. There's a lot of metal genres and that's why I say I simply like metals. New metal, old, black, Norwegian….I like it all. As long as the songs are good, I like them.
In our case, you guys also had some very fun songs and our concerts were like parties. I don't know if it's by being influenced by Beastie Boys and Sugar Ray…

(Laughs) "I just wanna flyyyy" (sings Sugar Ray) The Beastie Boys have always been an influence. My motto is this: I like having a good time, that's why I make music. Before you win at life, it's important to have fun while making music. If not, it turns into work. For people to have fun at your concerts, you have to have fun. Even though we take out music seriously, not everything has to be serious. We like people to move and feel different things. I don't want people to leave crying. I want people leaving thinking they had fun.
When you came out, you had a very recognizable image with the masks. Overtime, you've gotten rid of them. What was the motive?

When we started, we like using the masks as an artistic expression. There wasn't a motive to get rid of them, we just ran out of ideas of what to do with them. We didn't want to have them just because without a reason behind them. I just feel they're run their course. It didn't interest us anymore.
Before we finish, I'd like you to tell me he story behind your name Johnny 3 Tears.
Oh, it's because our first group was named 3 Tears. We had to have been 16 or 17. That's when I started calling myself Johnny 3 Tears because I thought it was cool. When we started Hollywood Undead, we all wanted to have nicknames., so I stayed with what I had.