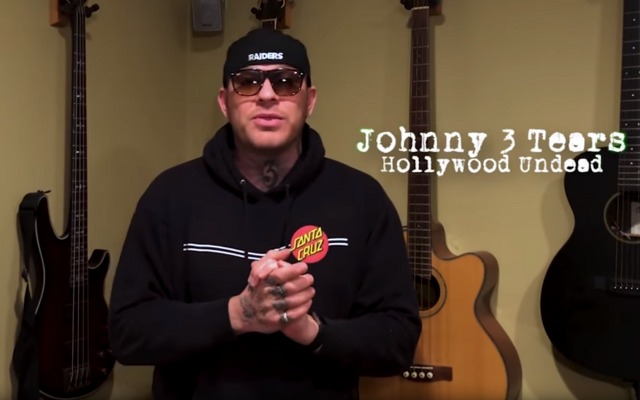 One of the remaining New Empire interviews we've yet to cover on here was the interview Johnny 3 Tears did with French blog Metal Eyes a few months ago.  The interview from back in December of 2020 covers how the band balances their vocalists and how they split focus on sounds between the two volumes of their latest album, as well as commentary on the pandemic and the then-recent House Party livestream.
The original interview appears to have been conducted in English and translated to French for the website, but thanks to our friend and previous collaborator Cédric Philippe, we're once again able to provide an English (re)translation for our English readers as well.
The original French text interview can be found in its entirety on the Metal Eyes website, or check out the English version below-
For this second opus of New Empire- the first part was released on the beginning of the year – it's Johnny 3 Tears, joyful and in good shape – even if he's not familiar with this tool-  who's connected on Skype this 15 December to talk to Metal Eyes about this new release from Hollywood Undead.  First observation : New Empire vol.2 is way more pop than it predecessor. Lighter than vol.1, the sound is closer to the soft punk for teenagers.  But it's clearly the American party's spirit, never limited in one musical style.
"M.E. : How is the sanitary situation at Nashville?
J3T: Clearly better than in L.A., here, everyone is wearing masks (note: a familiar thing for H.U. members…) I think that here, only locals theaters had to close, but I don't care 'cause I don't give a damn about actual cinema!
M.E. : Did the covid crisis impacted the release of the album?
J3T : Oh yeah, vol.2 was supposed to be released on April or May. When Vol.1 came out, we were on an European tour. The first show that we had to cancel was the Paris one. We came to home without really understand why and what happened. We didn't even think about this album. But the good thing is that we could writ new songs for vol.2. We took off songs, that were crap to me, and we replaced them with songs that are way better. Labels were also closed which explains why Vol.2 come out only now."
Johnny confirms that Vol.1 is really more aggressive, in the riffs and in the texts than this new volume.
"J3T: We wanted something really heavy. For vol.2, we wanted something softer an more accessible, even if we didn't really thought about it . "
By the way, to celebrate this release, H.U. was giving a " House Party" this 18 December.
"J3T:  This was the kind of things we did when we were students and when we started, we played in our friends living room. I kinda miss it, drinking 3 liters of beer, getting the living room fucked up and seeing the parents getting mad !"
What kind of evolution is Johnny seeing between the previous album, Five, and the new ones, New Empire vol.1 and 2?
"J3T :We didn't think about an evolution. As a person, we are all forced to evolve, depending on our feelings or what happened in our lives. Everything that happened to each one of us is globally on the album."
"M.E.: One of the particularity of the band is the number of members, and their various singing styles. How do you chose who sing what and who do what?
J3T : Mmmmh… we all have different voices, so the choice is mainly depending on the tonality of the song. I do the heavy things, Danny is a tenor, so he did the higher notes. And you know, on live, we like to change, to exchange our instruments…it's really about what each one of us is feeling about the song. We try to be as natural as possible without saying «You do this, you do that »"
"M.E. : H.U being a festive band, we see big guests on Vol.2, as Papa Roach with who the band was on tour when the sanitary crisis started
J3T : The biggest part of the songs with guests are the result of the covid… It's not in our habits to do this, except one time with B-Real from Cypress Hill. But every musicians we know were like us, stuck at home. So, we worked together, it was better than doing nothing. And as we had every songs, we only had to modify them. Usually it's complicated to reunite guests because when we record our songs, they are recording too or are on tour, so they are not able to come. Or it's the inverse. But at this moment, everybody wanted to work, which explains the number of guests. We recorded everything at home. The only travel we did was for the video with Tech-9 who didn't want to move.
M.E.: Which song from Vol.2 is the most representative of the today's Hollywood Undead?
J3T : Man, it's a hard question! It's a good one bro! On Vol.2 ? The most representative? Mmmh, I would say "Monsters" because it's the one with the biggest part of our history, it explains where we are from and why we started music.
M.E. : Ok, so, Monsters. And except " Fuck Covid" what could be the H.U' s mantra?
J3T : haha, this one is now everyone's mantra I guess! But H.U' s one could be " Live in the present moment ". I think people are too much serious. And if you overthink on what happened 5years ago or will happen in 5 years, you're losing your time" H.U. love parties and Johnny concludes with a simple " Hope to see ya on Hellfest, my very favorite festival "
And with the growing up popularity of the band in France, it's all we wish to them