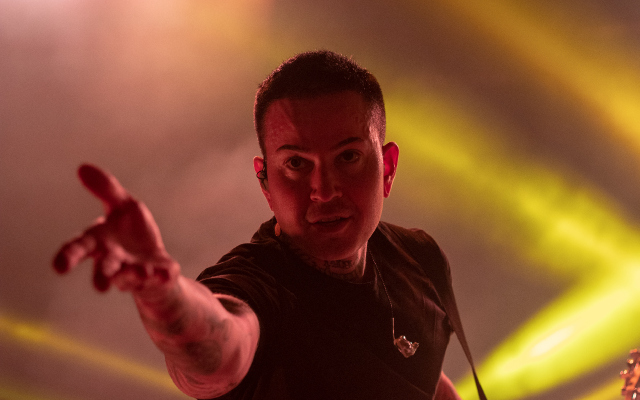 Late last year J-Dog sat down with Hardline Magazin's Alexander Stock to talk Hotel Kalifornia, becoming a multi-instrumentalist, touring in Europe and more.  German-speaking fans can read the original article here on the official Hardline website, and we've also produced an auto-translated copy below for English-speaking readers-
With their first three studio albums (especially the platinum work "Swan Songs" should be mentioned here), the US nu-metallers from Hollywood Undead presented a tailor-made start. The band, which was founded in California in 2005, then released four more long-players, which, however, were no longer able to match the successes of the early days. Now the signs are pointing to storm again, since mid-August the new work, christened "Hotel Kalifornia", has been available for purchase. We were able to talk to lead singer and multi-instrumentalist Jorel "J-Dog" Decker about the new disc, as well as many other topics…
Hardline: Jorel – very much thanks for taking your time for our Hardline magazine. First of all, congratulations on a repeatedly strong album, well done. Before we come to " Hotel Kalifornia ", briefly to you. Born in 1984, i.e. child of the nineties and actually the grunge rock, what music did you hear earlier and is true of the story, that The Who brought you to music, here essentially the bass player?
Jorel Decker: Hi Alex! I grew up on the streets of L.A. with rap music by Snoop Dog, Dr. Dee and Eazy E, they were our heroes at the time! The Who bass player was the reason I think live music is terrific. My mother bought tickets for the gig from The Who, I was 14 at the time and didn't know them, but I went with them. And during the performance there was a 10-minute bass solo by John Entwistle, which almost pulled the floor from under my feet, it was awesome and resulted in, that bass was the first instrument I learned.
HL: You are a multi-instrumentalist for me, in addition to your rapp passages you play guitar, bass, keyboard / synthesizer and drums. What instruments did you have lessons with, which ones did you teach yourself and which procedure would you recommend to today's kids?
JD: With me the music never just came to me, I always had to work everything out. I can only recommend today's kids if you want to learn an instrument, take what you really love. If after a while you find that guitar is not my thing, but rather the drums, switch to the drums. Only if you love the instrument will you master it one day!
HL: I could tell from your organic that your father in particular saw you somewhere else professionally. How difficult was it to convince him that you want to become a musician?
JD: I don't think whenever a child presents the dream job to his parents, it really gets applause, so it wasn't the case with me. But my feeling told me that I'm actually only on this planet to be a musician. Of course I can understand the parents' concerns because, to be honest, 99% of it doesn't work to make a living from music.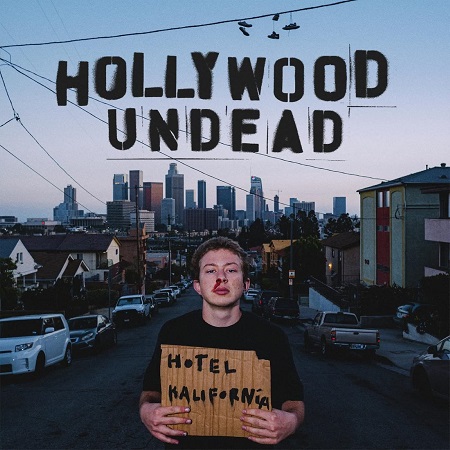 HL: Then with big steps to the new album " Hotel Kalifornia ", right to the album title and cover, whose idea were these and what were the thoughts behind it, especially with a view to the cover, where a boy with a bleeding nose is depicted? Personally, if you have topics like the Corona pandemic or the Ukraine war in mind, I would have chosen the album title – Chaos " …
JD: The album title was my idea to premiere for me on this point. It is currently feeling underneath and over in the world, not only with the points you mentioned, but also here in America. It's the same here in California, it reminds me of my childhood, there are crimes, homelessness and many other problems. The record label would have found it better, not to talk about it, but that's exactly what I see when I open my apartment door here. The cover was also a thorn in their side, but I found it appropriate. The child is my nephew, photographed in the street where he lives with my sister's family, it is not edited with Photoshop, it is real!
HL: How long did the recordings take and did the pandemic hinder the work on the album?
JD: Since we have almost all home studios, the pandemic didn't really affect us. We saw each other via live stream, of course we also met physically, this album was really created without any problems.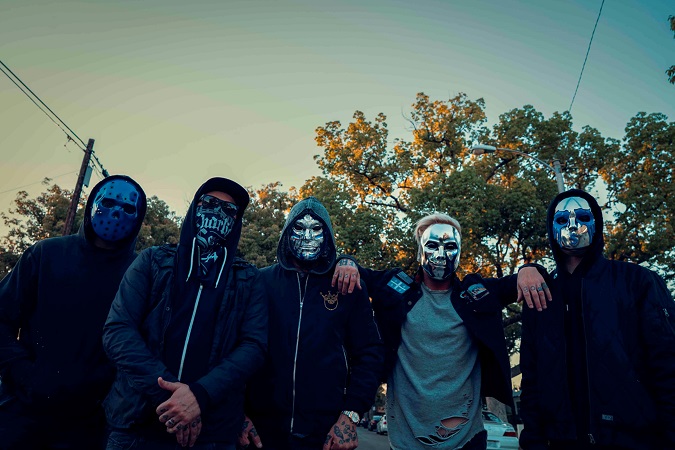 HL: With a total of 14 songs you have filled the new longplayer very well, my highlights are " Chaos ", " Alone At The Top ", the somewhat calmer " Lion Eyes ", " Reclaim ", the outstanding " City Of Dead " and the final " Alright ". What about you, do you have your own favorites with these many songs?
JD: I love the entire album, but of course everyone has their own favorites, mine are " World War Me ", then " Hourglass " which reminds me of my youth. But this changes over time, completely different ones can be added later …
HL: Which of your six to seven albums now symbolizes Hollywood Undead best from an artist's point of view, not from a commercial point of view? Is there an album where you would say as an artist: Everything was right here?
JD: Many will give you the answers " The first or the second ", I definitely cannot answer it myself, because in my view everyone has become good, otherwise we would not have published them. But if I can't get out of here with you without an answer, the album " V " has become terrific in my view!
HL: Then on the topic of live, finally it has been going on again for a few months, fans and bands can be one again. How difficult have you been in the past 24 months?
JD: It was extremely hard for me, for us. Giving live concerts is my life. I used the pandemic to work a lot, maybe I even exaggerated it at this stage …
HL: At Rock am Ring 2018 you covered " Enter Sandman " from Metallica and " You Hast " from Rammstein, whose idea was this compilation and how difficult it was, to sing in German?
" German? Insanely difficult! "!
JD: It is incredibly difficult for us to interpret in German what we have taught ourselves. What is always well received on stage are definitely dirty movements ( laughs )
HL: At the concert in Ohio in March 2022, you brought a thirteen-year-old boy on stage, are such actions completely spontaneous or do you go on stage with such an idea?
JD: We do that more often, but we are relatively creative, sometimes a child like in Ohio, sometimes we do a guitar battle with a spectator on stage and so on. But I remember the child, it had a lot of power, it was a lot of fun!
HL: Especially if you remember Rock im Park or Rock am Ring again, describe the feeling, if you stand on stage as an artist and 80,000 people sometimes rest completely, clap in time and sing your own songs with … don't you burst with pride?
JD: It doesn't really feel, really. If you stand on stage at Rock am Ring and then look at the crowd of 50,000 or more, you sometimes have to pinch to realize that. We are not a band of the order of Iron Maiden, Rammstein or Metallica that have already got used to these masses … I've dreamed of it since I was a child.
HL: If you come home after a tour, who will get you back on the carpet? Cheered by people for weeks and suddenly there is nobody, except that maybe the garbage has to be brought out or the kitchen has to be cleaned up …
" when I'm at home, I have to shop myself and even pay for myself "
JD: If you're on a bigger tour, you don't have to take care of yourself when you're at home, you actually have to buy the food and also pay ( laughs ). And if my wife gives me tasks, then I know that I am back home and no longer on tour ( laughs ). So it has less to do with the applause of the fans than with the normal activities of life that are taken from me during the tour.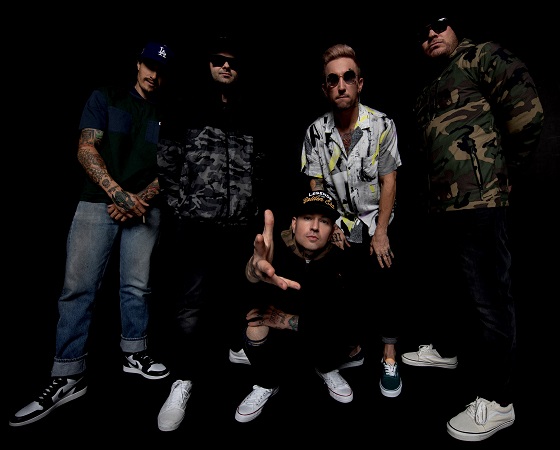 HL: Last question, on your homepage I could only see tour dates in the USA, is it planned to come back to Europe for live gigs with the new album?
JD: It is definitely our wish to come back to Europe, to Germany. However, we currently have to observe the situation a little, what happens to the pandemic, what happens in the Ukraine war. But it is definitely our plan to play with you as soon as possible!
HL: Then let's keep our fingers crossed that everything will lead to a good end! Jorel – that was it on my part, thanks again for your time invested, good luck with the new album, but above all, stay healthy!
Text: Alexander Stock
Photo credit by Jake Stark ( Bikes + Masks )
Photo credit by Darren Craig ( unmasked )