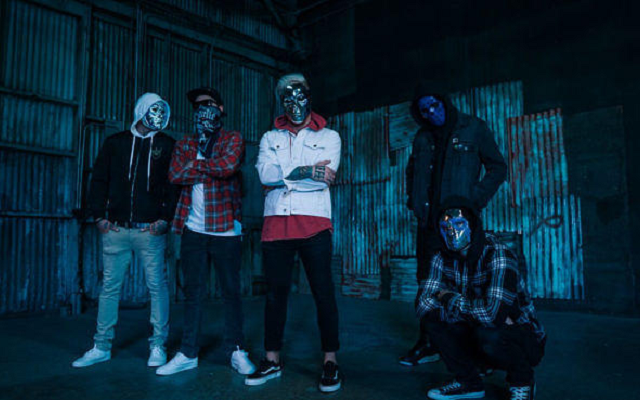 German music blog Metal Hammer recently ran an interview with band members Charlie Scene, Johnny 3 Tears, & J-Dog, conducted by writer Konstantin Michaely.  The trio discuss various topics related to Five, Linkin Park front-man Chester Bennington's passing and more.
Those fluent in German can find the original interview over on the Metal Hammer website.
We've reproduced an automated Google Translate version of the interview below for our English readers-
On October 27, US rockers HOLLYWOOD UNDEAD will release their fifth studio album, as the name implies. Read the interview here.
In the METAL HAMMER interview, J-DOG, JOHNNY 3 TEARS, and CHARLIE SCENE from Hollywood Undead talk about the upcoming record, their new masks, the death of Chester Bennington, and so much more.
Also for the new album V you changed your masks again, but you do not wear them while you are performing in the video for the new single 'California Dreaming'. Do you want to be recognized by more people on the street?
J-Dog: No, we do not really want to be recognized. It's just that you do not want to do the same thing over and over again when playing in a band. This time we even have three different masks per person, so a total of 15, we just did not want to wear them in the video again.
Johnny 3 Tears: It's important to us that our videos do not blend in so much. It was not about more than a little variety.
I would say that your style has not really changed since the last record DAY OF THE DEAD of 2015. Would you contradict me from the artist's point of view?
Johnny 3 Tears: We're the same band. I mean, we explored the limits – there are definitely things on the album that are not on any other disc – but we are still the same and do not try to sound like anyone else.
J-Dog: When you're in a band for so long, it's very difficult to move on without losing your sound. I think we change our sound from album to album a little bit each time, but not too much. If you make the same record for ten years, people will eventually lose interest, and you as an artist too.
In the track 'Black Cadillac' is a guest appearance of B-Real from Cypress Hill – how did the collaboration come about and how did it go?
Charlie Scene: We grew up with Cypress Hill and we've never had a feature on one of our albums. We have always reserved this for someone we really admire. We had an interview with him some time before and he was always pretty cool to us, and we had a song that we thought was perfect for him. Accordingly, he was simply asked if he would be interested, and that was immediately the case. The result speaks for itself: 'Black Cadillac' has become great! Compared to B-Real's stanza, those of the others seem really miserable – must be really embarrassing for them! (laughs)
Johnny 3 Tears: No, seriously, it was cool and we were so excited about it. It's all organic, as Charlie said – we've been watching him since we were kids, so it was super surreal and awesome … except, of course, that his part is so good that I'm bad at it. It's frustrating! (laughs)
Which titles on V are your favorites and for what reasons?
J-Dog: In answer to this question you will get five different answers from us. It keeps changing … right now I really like 'California Dreaming' – also because we just made the video and I've heard it so many times.
Johnny 3 Tears: Yeah, that's the same with me all the time. We finished the recordings about three months ago and since then I've had different favorites: 'Your Life', 'Broken Record', 'Renegade' … there are some that I really love. In my opinion, the album is pretty pretty pretty good overall!
Charlie Scene: Yes, I agree. 'Broken Record', 'Bad Moon' and 'California Dreaming' … (at this point Charlie Scene is interrupted by Johnny 3 Tears, who fart into his microphone, followed by laughter and profuse apologies and the offer to buy a new one – Note of the A.)
You are often musically associated with Linkin Park. Did you personally meet the suicide of Chester Bennington?
Johnny 3 Tears: I think that affects everyone in some way. Every time someone is so desperate that they kill themselves, it affects me – whether it's a musician or someone I do not know. Because I do not separate between him and anyone on the street. I always try to understand that, but I just can not do it. The difference in his case is just that he was also a musician, which makes you rethink your own life.
J-Dog: After it happened, Johnny told me it's scary when someone like Chester Bennington does something that has everything we want – money, success, admiration from all sides … he's somebody, to which we look up. The fact that someone has committed suicide somehow makes one question one's own reality.
Johnny 3 Tears: Exact. You're wondering if you really work for the right things. In my opinion, if you are not happy now, that can not change anything material in the world. (At this point he stops for a moment, sinking in thought and becomes remorseful – note a) Again apology for the fart.
Why is Da Kurlzz no longer part of Hollywood Undead?
Charlie Scene: He just did not feel like rock'n'roll anymore and wants to go musically in a different direction. There is absolutely no bad blood between us.
Do you feel more like the hip-hop or metal scene?
J-Dog: Definitely the metal scene! The hip-hop, which is currently popular, gives us nothing. We generally hear more rock and metal. Our concerts have much more of a metal than a hip-hop show.
Johnny 3 Tears: The rap we hear is 15 years old. I have not heard a good new hip-hop record for ages, whereas there are a lot of new metal bands that I like. In my opinion, Metal has gotten better and better – but the hip-hop scene died qualitatively for me!
J-Dog: Even when we're partying, we never look for hip-hop sheds, just rock clubs. That's simply our thing!
What are your plans for the near and far future?
Johnny 3 Tears: First we will release some new songs – on the 27th of October the album will be released and afterwards live will be played extensively. This year there is still a big US-Tour, at the beginning of next year we will come back to Europe. We just try to promote the new record as best as possible. Long-term? Eat less fiber and fart less.
Charlie Scene: Yes, it's really disgusting. I also hope he reduces that. Not really more.
Johnny 3 Tears: No, in the long run, I think we'll make more records, play more live, and just keep doing what we're doing. Planning the future big makes no sense – who knows if we'll still be here in five years? Look at what happened to the dinosaurs. (laughs)