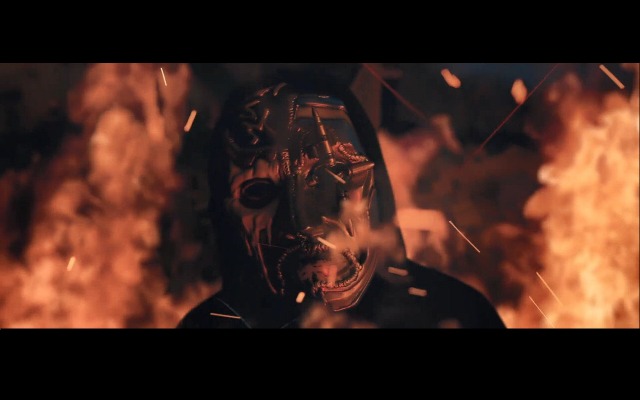 After a week or so of building the hype, the "Idol" music video (featuring Tech N9ne and directed by Wombat Fire) finally debuted on YouTube this morning to a live chat featuring the band account joining in on the fun.  The full clip is embedded below-
The band's account had some fun with the chat, getting streamers in on the hype with lyrics and discussing the possibility of putting together a remix for the single, seeking input from the chat.
Towards the end of the video a figure in a Hollywood Undead hoodie finally turns to the camera after setting fire to a collection of HU ephemera, revealing a new mask fusing elements from the various band members old visages.  The band account promptly posted into chat asking WHO IS HE.  So what do you think, one-off appearance for the "Idol" video, or a hint of more to come?  Sound off on your preferred social channels and let us know.
Jerry Constantine would pop on Instagram later in the day to confirm he was involved in designing this new amalgam mask, and that they "just took a while to come up with a good concept".
The new mask lines up with the Spotify teasers we saw when New Empire Volume One dropped back in February of this year.