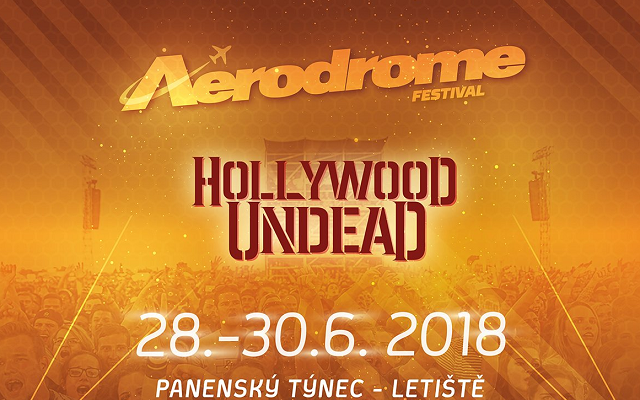 Hollywood Undead have been dropping festival show announcements left and right on Twitter over the last two weeks.  We've collected all of the show announcements below to help you get caught up on the whens and wheres for festival season 2018!
First up is Aerodome in the Czech Republic going on from June 28th-30th.  Fans can get tickets from the official site with a special discount until December 15th.
AERODROME FESTIVAL 2018
WE'RE JOINING THE BIG PARTY ✈️
Can't wait to see you all in June!https://t.co/D42Uwhglzi pic.twitter.com/XMyFOhiol8

— Hollywood Undead (@hollywoodundead) December 12, 2017
Next up is Download Festival France from the 15th-18th of June.  Fans can grab tickets from the link embedded in the tweet or here at Festicket–
.@VOLBEAT, @OfficialOpeth, @NOFXband, @BillyTalentBand, @alestormband, @hollywoodundead & many more have been added to the @DownloadFestFR lineup! ????????

Book tickets now ???? https://t.co/iIgEiChO9e pic.twitter.com/axcuibyzYS

— Festicket (@Festicket) December 11, 2017
HU will also be joining the lineup for Las Rageous in 2018, going on from April 20th to 21st.  Ticketmaster is already selling tickets for the show as well.
LAS RAGEOUS TICKETS ARE AVAILABLE NOW
We are coming to Las Rage our faces off!!!????????https://t.co/TNYAMVL5C1 pic.twitter.com/PwjiIvecPF

— Hollywood Undead (@hollywoodundead) December 8, 2017
For all of the Texas-based fans, there will be Fort Rock in Fort Lauderdale on April 28th/29th.  Tickets are available on the official Fort Rock website.
FORT ROCK ON SALE NOW!  @monstermusic @FortRockFest 4/28-4/29 in #FortLauderdale!
SEE YOU IN APRIL https://t.co/W3V0MWczUo #FortRock pic.twitter.com/85p5Ijkfjw

— Hollywood Undead (@hollywoodundead) December 8, 2017
Finally, we have Corona Hell & Heaven on May 4th/5th in Mexico City!  Tickets are available now via Ticketmaster Mexico.
Corona Hell & Heaven we are coming to tear your shit up!!
See you in May! ????

Tickets Available on Monday, November 27 @ 11:00 AM CST pic.twitter.com/NacGO2jPpB

— Hollywood Undead (@hollywoodundead) November 21, 2017