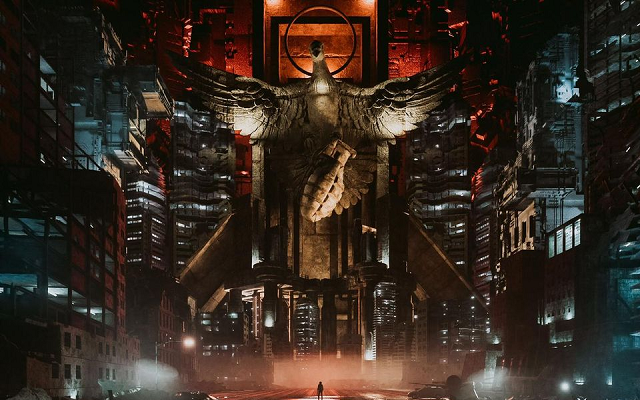 Despite a truncated tour and a music industry gone topsy-turvy in the wake of the pandemic, Hollywood Undead, who are no strangers to the odds being stacked against them, have made good on their promises and dropped their second album this year with New Empire Vol. 2!  
The second volume comes in at 12 tracks, with production from Matt Good and Charlie Scene, with drums from Luke Holland, artwork from Samuel Shapiro, and features from a who's who of genre-agnostic names including Hyro The Hero, Killstation, Tech N9ne, Papa Roach, Ice Nine Kills, GHOSTKID, and KURT92.
The album is now available to stream or purchase on all major digital music platforms, with physical copies available from the official Hollywood Undead merch page.
What are your favorite tracks so far?  Hit us up on social media @scnfdm and let us know what you're thinking!
Some of the featured artists have already taken to social media to talk about their contributions-
HAPPY RELEASE DAY TO MY FRIENDS @hollywoodundead !!!????
So proud to be a little part of the album and many thx to the guys for giving me the chance to do a german feature on IDOL!!! Make sure to check out the record and get your copy now????????????#hollywoodundead #idol #newempirevol2 pic.twitter.com/SpETLI7jdJ

— Ghøstkid (@iamghostkid) December 4, 2020
Во всем интернете можно найти вот это???? pic.twitter.com/ln3J5nDRjQ

— KURT92 (@kurt92kurt92) December 3, 2020
I am ft on @hollywoodundead new album????. This is insane. So many big names on here. Y'all check it out. Always been a fan and they took me on tour back in the days. Love these dudes. So epic. https://t.co/9GAZCgQpcO pic.twitter.com/x2GtzXr1IQ

— Hyro The Hero (@hyrothehero) December 4, 2020
NEW @HOLLYWOODUNDEAD ALBUM OUT NOW

TRACK 5 "MONSTERS" FEATURING ME! GO GET THAT!https://t.co/KsrcgHBHqr pic.twitter.com/02d4Yxgbpf

— KILLSTATION (@_killstation) December 5, 2020