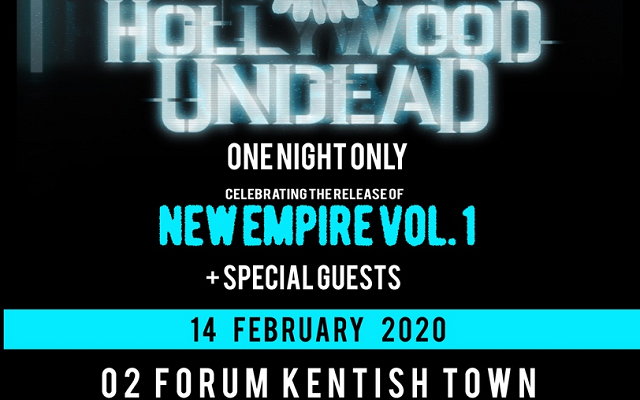 Hollywood Undead have been busy between announcing a new album and European Tour with Papa Roach, and now its time for yet another reveal.
HU are headed back to the UK on February 14, 2020 to celebrate the release of New Empire Volume One at the O2 Academy venue in Kentish Town.  This is the first visit to the United Kingdom since a lengthy leg of the Europe 2019 Tour earlier this year.  Unfortunately for British Undead fans, the band is back for only one night, but its set to be a special one commemorating this new album.
According to the band's Twitter account, fans who preorder the album from tmstor.es will get first dibs at tickets.
No supporting acts have been announced yet, just a "special guests" line on the announcement poster.  Fans can set a reminder for when tickets become available via LiveNation UK, though no VIP options have been listed for this show.  Tickets and VIP for additional shows are all available from the official Hollywood Undead Tour page, and the band social media accounts have been pushing fans to use the BandIsInTown service to help them get a better idea on where to book future performances.
Check the full announcement poster below-