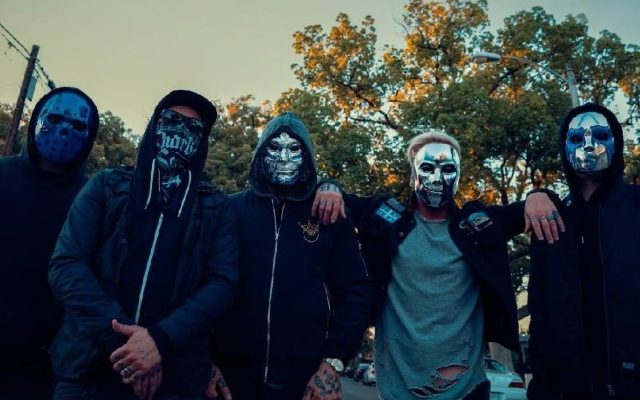 As the launch date for V continues to get closer, early reviews and impressions for the album have started to show up.
The first review comes by way of Nik Young from Team Rock.  The review is super short, literally only about a paragraph of text, but it likens "Pray" to "Whatever It Takes" as being "sticky"…for whatever that's worth?  Still though!  The review comes off as generally positive reception for the new album, which is always good to see outside of the core fan community.  You can read the Team Rock review here.
The second interview comes from Jacob Jorgensen of Dutch site Calles Rock Corner.  The review is written in Danish, and you can read the original source material here.  We have provided a rough and slightly cleaned up translation below:
The band comes from USA closer to California. This is their 5 album if I've figured it right. We're in some metal mixed with hip hop. Lineup: Johnny 3 Tears, J-Dog, Charlie Scene, Funny Man and Danny. Some artist names and powers did not figure out what they were playing. They wear masks on the picture I saw in the press material. 
The album's theme deals with California's glamorous entertainment industry, well and beyond, one can say the shadow pages. The first single from the album is "California Dreaming". This song and "Ghost Beach", "Nobody's Watching", "Renegade" and "We Own The Night" reminds me of the mood from POD's "Youth Of The Nations" song. At these 4 there is both a bold common song / choir and a mood over it. There are songs like these, which I would have liked to see more of.
A few other songs are also not very bad, but I do not get the same climax for me. In addition, I think a song like "Black Cadillac" is misplaced here, + there could be 3 songs less on this. Although I'm mostly pure metal, I also love bands like POD, Linkin Park and Clawfinger, as well as other bands that mix the hip-hop. It simply requires that the metallic elements do not lose much. 
The 4 good songs draw a lot in the score, as opposed to the less good and bad songs the other way. But are you at the band, and bands that mix metal and hip hop you can probably get even more of it than me. Hollywood Undead occupies the Danish scene until February closer to 22 / 2-18
Five  will be released October 27 via BMG.
Obviously Jacob is more of a self proclaimed metal-head, and more power to him!  Everyone has their tastes, but HU and their albums have always been about variety.  So I'm not at all surprised to see someone like Jacob less interested in HU's none-rock influences and how they express those in music.  That being said, the reviewer does not come off as very familiar with the band's catalog, so we would take their disinterest in V with a grain of salt.
Finally, it what comes off as the meatiest and possibly most "spoiler" filled review, we have MarkW of Moshville.co.uk.  Mark's review covers the sounds and some lyrics covered for the majority of the 14 track album, giving fans additional hints in terms of what to expect from individual tracks that have not yet been released to the public.  Overall, the review comes off as the most positive one yet! 
You can read Mark's take on the latest HU LP here.
We expect more reviews to hit the web over the next ten days as we head into the launch of V, so keep your eyes peeled as we plan to cover them as they are posted.