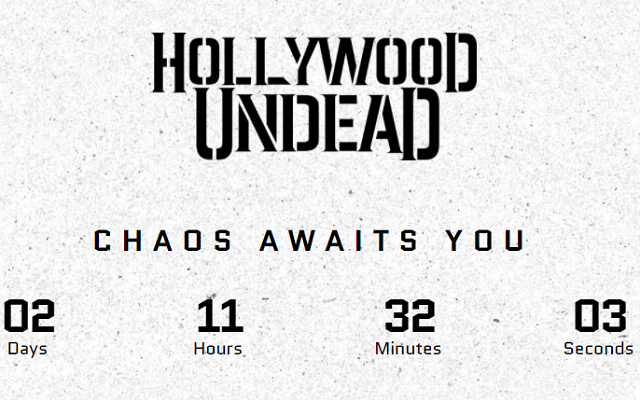 When the official Hollywood Undead Store turned over to its new branding last week, the band's fairly dormant homepage also swapped its CSS for the new "CHAOS" themed re-launch.  Fans may have also caught a brand new countdown timer on the homepage, counting down to March 3rd (see the thumbnail above).  
The official label press release for the new single also noted the music video for the new single was set to drop March 3rd, leaving some to assume the countdown timer and the video release are one and the same-
The song's official haunting and artistically choreographed video, directed by Jensen Noen (ICE NINE KILLS, FALLING IN REVERSE, ASKING ALEXANDRIA), will make its online debut on March 3 at 10 a.m. PT/1 p.m. ET via YouTube.
scnfdm previously reported on the band's music video shoot back in January, in which many of the extras in the fan community had to sign NDA's, consequently keeping the lid tight on the project for now.  March looks to be a key milestone for the band with the new album cycle in full swing and a return to touring for the first time since 2020, so stay tuned for more news as we get closer to the March 3rd date alongside the kickoff of the Kill The Noise Tour with Papa Roach and Bad Wolves tomorrow in Anaheim.