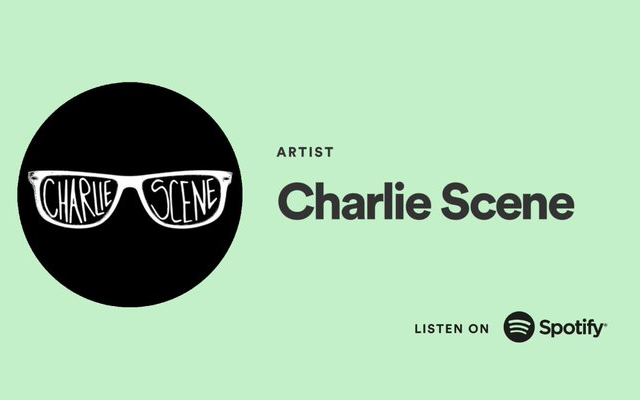 You need to add a widget, row, or prebuilt layout before you'll see anything here. :)
Charlie Scene is keeping the foot on the gas for his new solo project – hitting social media a couple of days ago to announce he would be dropping his second single once his Spotify account reached 10,000 monthly listeners. 
Go follow Charlie Scene on Spotify. When I reach 10k monthly listeners I'm gonna drop the next track!!! #ohshitnice

— Charlie Scene (@sirCharlieScene) August 29, 2021
We've been rallying the fans on our social media channels since then, and as of this writing we're just over halfway to the goal with about 5200 Monthly Listeners – so if you haven't spun Charlie's debut single "lil Tim McGraw" on the platform yet, now's your chance to contribute to the total (even if Spotify isn't your usual platform of choice!).  
On a related note, the official Charlie Scene Spotify page also had its bio updated – check it out in full below-
Charlie Scene is a singer/songwriter/producer, and one of the founding members of LA rock band, Hollywood Undead. Charlie's biggest songs with HU include "Everywhere I Go," "Bullet," "Comin' In Hot," "Whatever It Takes, " "Riot." During the pandemic, Charlie took the opportunity to write and record an album's worth of "Charlie Scene" songs that reflect his current state of mind (and satire) while being isolated from the members of HU due to the pandemic. The first single release from his own Shadow Hills label is the party anthem "lil Tim McGraw" a driving beat with the memorable hook "party like a redneck" that will surely become a staple on Karaoke nights everywhere. The single artwork was created by HU bandmate Dylan "Funnyman" Alvarez.
Listen to "lil Tim McGraw"
Buy Charlie Scene Merch
Subscribe to Charlie Scene on YouTube
Like Charlie Scene on Facebook
Follow Charlie Scene on TikTok
Follow Charlie Scene on Twitter
Follow Charlie Scene on Instagram
Everything Charlie Scene on Linktree