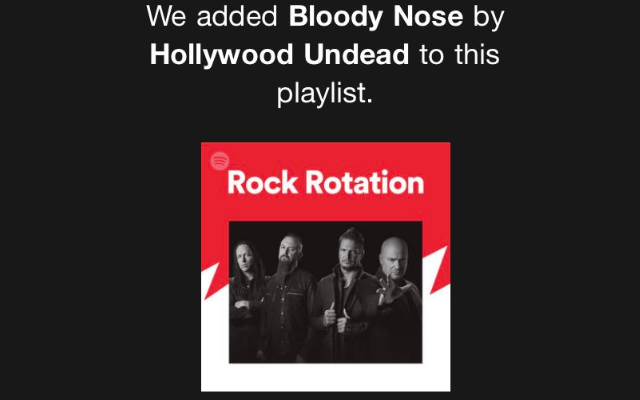 Hot off of the new EP Psalms, Hollywood Undead's "Bloody Nose" has found its way onto even more official Spotify playlists, giving the band even more exposure on the ever-popular music streaming service.
First up is the evergreen "Rock Rotation" playlist, listeners can launch it by following this link.
The second playlist features nearly double the followers, with a similar theme of heavy rock-based tracks, the "Rock Hard" is available here on Spotify.
Finally, the band finds themselves on yet another Brazilian Spotify playlist, with Volume Màximo. 
With 2017's "California Dreaming" finding its way onto the Pegando Pesado playlist just a few weeks ago, the group may be gaining some good exposure in Brazil!
You can check out the official announcement's from the @hollywoodundead Twitter account below, or head on over to YouTube to listen to the official "Bloody Nose" upload-
BLOODY NOSE IN ROTATION

???????????? @Spotify https://t.co/cnM95WfTJq pic.twitter.com/cHLGbPDfD0

— Hollywood Undead (@hollywoodundead) November 16, 2018
BLOODY NOSE on ROCK HARD@Spotify ????

Check it out: https://t.co/EvW85NDcDd pic.twitter.com/h3ghXZA1f0

— Hollywood Undead (@hollywoodundead) November 21, 2018
VOLUME MÁXIMO ????

????????????https://t.co/Kw3BeKf8SO@Spotify pic.twitter.com/v2QPFByKly

— Hollywood Undead (@hollywoodundead) November 23, 2018