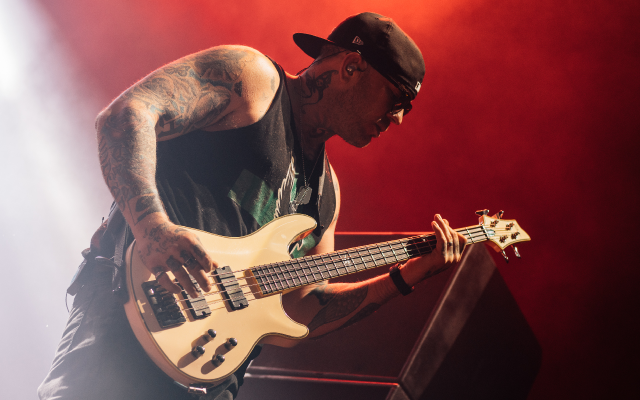 Today we've got another international interview from the Hotel Kalifornia rollout this past Winter with Johnny 3 Tears, this time from Brazilian-based Igor Miranda.
Native Portuguese speakers can check out the original interview here via the official IgorMiranda.com page, while our English readers can check out an auto-translation below-
In Brazil, the tendency is to think that the United States is a very different country; in particular developed. There are those who believe that the problems of our day-to-day do not happen in the largest economy in the world, the land of freedom. Ledo deceit – and "Hotel Kalifornia", the new Hollywood Undead album, is further proof that things are not quite like that.
Coming to BMG, the eighth studio album from the rap metal group formed by Jorel "J-Dog" Decker, Dylan "Funny Man", George "Johnny 3 Tears" Ragan, Jordon "Charlie Scene" Terrell and Daniel "Danny" Murillo – where everyone sings and takes part in the instruments – presents, according to publicity material, "a heavy and reflective work on social inequalities" in California. The state is marked by inequality, as it has both the largest number of millionaires and the highest poverty rate in the country.
A report by the US Department of Housing and Urban Development points out that more than 25% of the homeless population in the country lives in California – and 11% specifically in Los Angeles, the capital and largest city in the state. Another study, done by CalMatters, puts specific numbers: more than 173,800 are in this situation in Californian territory.
In an interview with IgorMiranda.com.br, Johnny 3 Tears was invited to reflect on the subject, especially given the information that the largest city in Brazil also deals with the problem – there are more than 65,000 homeless people in São Paulo.
"It's good that people realize that what happens in the United States also happens elsewhere. It raises a social issue not just in the US but everywhere. The difference between those who have and those who don't only grows, it doesn't reduce. When people see it with their own eyes, it's more important than reading it in the newspaper or hearing it from someone else. I think it's important to draw people's attention to California, which is known for glamour, Hollywood, celebrities and all this cheesy industry. This comes to mind when in fact it is just a minuscule aspect. I think it's important to show that, because there's no way to solve a problem until you see it."
Everything is political
The problems that Brazil and the United States have in common are not restricted to social ills. In both countries, it is common to have social discussions affected by political polarization. Here, for example, an artist who questions the homeless crisis in his work would soon run the risk of being called a "leftist" or "lacrador".
It's not that different in the US, as pointed out by Johnny 3 Tears. Still, Hollywood Undead rose to the challenge.
"I remember saying something about vaccines on Twitter and immediately people were judging me, talking about effectiveness. Everything about this subject is heightened when in fact it was a medical question, not having to do with politics, but taking it to the political side. Let your worldview be made by one person: if you vote for that person, things will change. It's ridiculous not to be able to talk about these subjects, as if it were a pyramid, without referring to the top. If you talk about the homeless, you are against general California policy, not homelessness. It makes it difficult, but more than that, it makes it boring. You can't have a conversation without the other person putting you down. […] Politics being involved in medicine, food or housing… we should be able to talk about it without politics being brought up on the agenda."
back to music
Lyrical issues aside, "Hotel Kalifornia" is a typical Hollywood Undead album. The mix between hip hop, alternative metal and electronic elements is still present, as well as the alternation between voices and instrumental cohesion, even in a work developed with several producers: Andrew Migliore (Papa Roach), Erik Ron (Panic! at the Disco) and Drew Fulk (Lil Wayne and Lil Peep).
In the view of Johnny 3 Tears, it would be really challenging to work with just one producer. Almost all of the band's albums were made with more than one professional in the same role, usually distributed among different tracks.
"We do it this way because it keeps the excitement going, it keeps everything fresh. If you do 16 or 20 songs with 4 or 5 producers, you're always starting over, starting to think again, instead of being lazy or stuck in a box. It's always worked better for us as a band with these new injections of point of view. Everyone who works in music has something unique to offer, so you have four different perspectives instead of one."
If there was anything different this time, it was the recording process amid the pandemic. Unlike other works, "Hotel Kalifornia" was not developed in the middle of a tour stop – everyone was obligatorily at home, since it was not possible to tour.
"It affected the album in a positive way because we weren't together other than livestreaming for a year and a half, so I think everyone was excited to get back together and work together again, create stuff together. It's when things are taken away from you that you realize their importance. Having tours taken away from us makes us more grateful than before, our adrenaline was pumping."
The song that "sums up"
Although "Hotel Kalifornia" is a very diverse work and with several layers – lyrical or melodic – to be explored according to the auditions, one song seems to sum up all the material. And it is precisely the opening track, also selected as the first promotional single: "Chaos".
In other interviews, J-Dog even said that the song elicits "love it or hate it" reactions, especially as it sounds perhaps too heavy for some fans. To the website, Johnny 3 Tears reveals that this song – and perhaps the entire album – couldn't sound any other way.
"The song was composed about the pandemic situation and everything that was happening in the world. Those were dark times. Songs usually bring out what you feel, but 'Chaos' was about what we saw. It could only be heavy, because the inspiration behind it has a huge meaning, but we are not a heavy band, nor are we a soft band, because we don't do ballads. It's hard to define. You never know what to expect with regards to the reactions to our songs: we've got heavier ones, but we've also got some more pop ones. Some hate us for not being heavy enough, but to me, what's good is good. Why limit ourselves, if that's what we do: music of various kinds?"
On the road and South America
At the time of the interview, Hollywood Undead was touring with Papa Roach, Falling in Reverse and Bad Wolves. They are bands that share the same sound link: alternative sounds within heavy metal that combine elements from other genres, from hip hop to electronic music.
"Papa Roach have been our friends for a long time, they are our favourites. I watch them practically every night, they never get old, they are the best rock band right now in my opinion. Falling in Reverse and Bad Wolves are also great. And returning to the stage was different, this time the nerves surfaced, but you get the hang of it. It's hard to live without the energy of the stage, you get used to feeling it."
Whether solo or on a combined tour, would Hollywood Undead return to Brazil for a second performance, since the first and only one took place in 2016, during the Maximus Festival? The musician replies:
"We planned to go in 2020, but everything was destroyed. But we have plans to go in 2023, I know they are working on it and we really want to come back."
Despite only visiting once, Johnny 3 Tears has fond memories of Brazil. On occasion, they shared the stage with Rammstein, Bullet For My Valentine, Disturbed, Halestorm, Shinedown and more.
"We only stayed for a few days, but our first time in South America and Brazil was amazing, the fans are amazing. I didn't know that in Brazil so many people loved heavy music. We played with Rammstein, they went crazy, I thought, 'fuck'. I thought: 'they are Germans, they are known in the United States, but many people don't listen to them because they are Germans'. But it wasn't like that, it was amazing. Our manager also works with Rammstein, so we hang out in the dressing room, we talk, we hang out with them. We have been trying to come back to Brazil since that time, so we hope that happens soon."