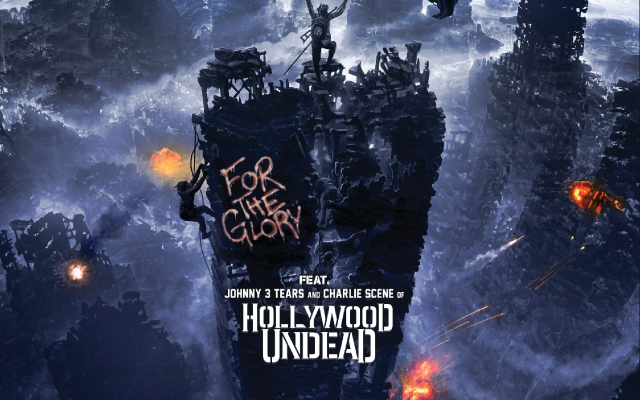 If you've been keeping up with the band All Good Things on social media this year, you'll know that their 2021 single, "For The Glory" featuring Hollywood Undead's Charlie Scene & Johnny 3 Tears, has been doing big numbers on various rock radio charts throughout the year.  
Good news for both bands, is that per industry charts and reports from the band themselves, the song is continuing to enjoy even more success out on the airwaves and online!
The song has tracked at #1 on BDS & Mediabase Rock per the official HU and AGT Twitter accounts, and as peaked at #1 on Mainstream Rock on Billboard per @AAACharts on Twitter – a new achievement for each of the bands!  The song has also been sitting comfortably atop the Active Rock Top 10 for two weeks in a row.  AGT took to social media to thank everyone for the help-
THANK YOU to rock radio for spinning "For The Glory" feat. @hollywoodundead ‼️ It's climbed all the way to #1 in the USA! ????☝️Thank you to the fans for your continued support. Our tour w/ @pod @fromashestonew & @sleepsignals starts in one week! See you on the road soon! pic.twitter.com/NOCBLdEFUh

— ALL GOOD THINGS (@AGTrockofficial) August 9, 2021
Additionally, the song has also surpassed 1 million plays on YouTube (you can check the video out here).  
Our music video for "For The Glory" feat. @hollywoodundead just hit one million plays on YouTube! Swipe to see who's fired up ???????? pic.twitter.com/Svt3LFBYFU

— ALL GOOD THINGS (@AGTrockofficial) August 12, 2021
A big congrats to both groups on the success and cheers to more.  All Good Things is heading out tour with P.O.D., Sleep Signals and fellow recent HU collaborator From Ashes To New soon as well, be sure to check out their site for more info.
Check out some of the additional Tweets below for chart info-
We LOVE some good news on a Monday. For the Glory with our buds in @AGTrockofficial just hit #1 on US Rock Radio!

Mad love to all of the stations that have been playing the record, we sincerely appreciate the support ???? pic.twitter.com/JAU5dbUplD

— Hollywood Undead (@hollywoodundead) August 9, 2021
"For the Glory"by @AGTrockofficial f/ @hollywoodundead is officially the first @billboard mainstream rock #1 for both artists. Congrats to both bands! pic.twitter.com/TZ6pp9xMvm

— Fetch the Bolt Charters (@AAACharts) August 10, 2021
☝️????????????RT @RPMpromotion: A HUGE round of applause ???? for @AGTrockofficial hitting #1 at Active Rock in the USA!!!! ???????? #ForTheGlory ???? pic.twitter.com/Vf8VaCyhU5

— ALL GOOD THINGS (@AGTrockofficial) August 9, 2021
☝️????RT @MJMStrategies: This week's Active Rock Top-10 (09-15 August 2021): @AGTrockofficial f @hollywoodundead (2 weeks at #1) @Zero936 @MammothWVH @VOLBEAT @evanescence @foofighters @TPROfficial f #MattCameron & #KimThayil #LARats @CHRIS_Daughtry @ChevelleInc

— ALL GOOD THINGS (@AGTrockofficial) August 8, 2021