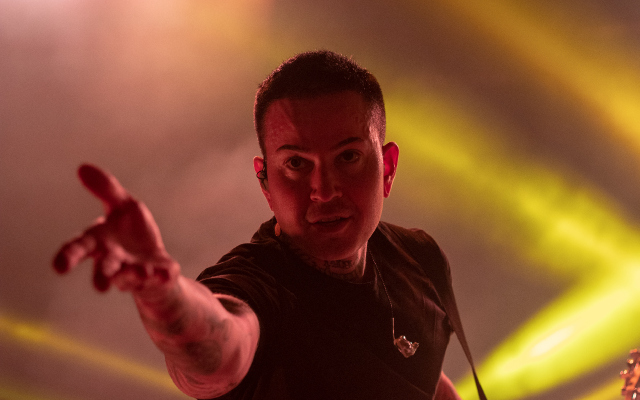 In honor of J-Dog's birthday earlier this week, we're taking a moment to highlight some of our favorite J-Dog tracks from across the Hollywood Undead catalog.  We've split our top ten selections down into multiple categories – including the band's most streamed tracks, some of the least streamed tracks, plus personal selections from each member of our team.  Check out the full breakdown below and see what you think, did we miss one of your choice J-Dog verses?  Sound off and voice your opinion too!
Top Streamed:
For this first section, we mined songs from the top of the band's Spotify charts based on total lifetime streams of the track.
Undead:
What much can be said on this track that hasn't been reiterated numerous times through the years?  The band's debut radio single, and arguably their most well-known eponymous anthem, also doubles as many fan's introduction to J-Dog due to its prevalence in the late 2000's on various soundtracks and rock stations.  J's verse almost served as a Cliffs Notes for fans that had missed out on the band's early MySpace years – punchy and in your face with a smattering of stuttered syllables and shout-outs, and ready to spell out the vibes unabashedly to the uninitiated.
Hear Me Now:
"Hear Me Now" had a lot riding on it as HU's first single after years of downtime, and the cloud of the "sophomore slump" looming over the band if they failed to deliver with American Tragedy.  J's verse brings a reflective tone, something that has stood the test of time since fans first heard it all those years ago – leading listeners on a tale on a melancholic tale of remorse that looks to the future for answers. 
We Are:
Are we seeing a trend with this list yet?  The band's first salvo off Notes From The Underground harkened back to some of that anthemic sound that "Undead" had laid the foundations for a few years prior.  J-Dog's second verse on the track would hit a more personal tone, actively directing criticism towards someone with misguided priorities in his lyrics – unafraid to pass judgment with a brutally honest delivery.
Underrated Gems:
This next pile of tracks comes from the bottom range of Hollywood Undead's streaming catalog, but in order to be inclusive we also opened up the selection to include retailer bonus tracks that have yet to make it to modern streaming services.
Tendencies:
One of the few non-single American Tragedy tracks that made it into the band's setlists for numerous years, "Tendencies" wouldn't let the album close out on a slow note.  Assaulting the listener with a rapid fire set of images involving threats of knives and firearms, with lines like: "It ain't possible to manage all the carnage and the damage And an animal like me can use it all to my advantage", and the repeated closer "We're kickin in your door, 'cause we ain't nothing to fuck with!" just hit differently in a rapid-fire courting with violence for the listener.
I Am:
"I Am" is almost the end of an era, an epilogue for the band's last album under their first label – and the last track (to date) with production from Danny Lohner.  J-Dog's verse effectively puts his contemporaries on notice – drawing direct comparisons between the honest hustlers and those living in a facade.  Threatening to trade his gold plaque for a zigzag serves as a capstone for J-Dog's straightforwardness – the accomplishments are in the past, and he's continuing to move forward.
Live Fast Die Young:
A sonic curveball for longtime HU fans, "Live Fast Die Young" brought the sounds of Hollywood Undead into a more synthwavey neighborhood.  Jumping on later in the otherwise melodic track, J-Dog delivers his verse almost like a sermon in stark contrast to Danny's soft vocals.  While other verses on this list may come off as very direct or confrontational, this verse takes a gentler tone – offering likely hard-won wisdom to the listener and trying to live a life without second thoughts- "I got no regret, and that's the way that I planned it".
SCNFDM Team's Top Picks:
For this final trio of tracks, we had each member of our team volunteer some thoughts on their own personal  choices from the band's catalog that hadn't already been picked from the top/bottom of the HU Spotify charts.
Believe:
Vik Winchester: I believe (what a pun, huh?!) J-Dog in that verse, I can feel his pain and struggle.  I can hear his pain and vulnerability in his words.  Many people could recognize themselves in these lyrics.  "Can you believe bad things only happen to me?" this line in the particular, it seems like J-Dog truly believes that he's only one who's got bad luck (which is obviously not, but it feels like it), and that's something a lot of people can relate to
Dead Bite:
German Padilla: "Dead Bite" stands out to me as one of J-Dog's best verses because of how well it flows in after the chorus. His rhythm goes hand in hand with the instrumental and it never fails to pump me up, no matter what I'm doing. Dead Bite is also one of my favorite tracks during live shows. "The voice in your head is just me in your headphones" is a standout line from the song.
Nobody's Watching:
Scrubsauce: In an era where the band finds itself writing together as a group more than ever, the old song style featuring a single member on verses for the duration of the track has kind of fell by the wayside – Five had a few standout exceptions – including "Nobody's Watching".  With other projects like Outsider and The Abyss in the book, the track almost feels like a J-Dog side project effort (featuring Danny!) – an overdue check in with J like hearing from a friend you haven't spoken to in a few years with dashes of emotional gut punches scattered throughout his lyrics.
Featured Track – "CHAOS":
This list has focused heavily on J-Dog's verses and rapping, but recent years have given him increased opportunities to flex his prowess on the mic.  "Chaos" is the first new single off the band's upcoming eighth studio album, and reminds longtime fans that J's occasional braggadocious aggression is still sitting there under the surface, ready to let loose on some screams when the time (and track) is right.
Want more J-Dog?  We've added a new J-Dog themed Quiz to the Undead Army app here!  Also check out this YouTube playlist featuring a collection of the tracks mentioned above: