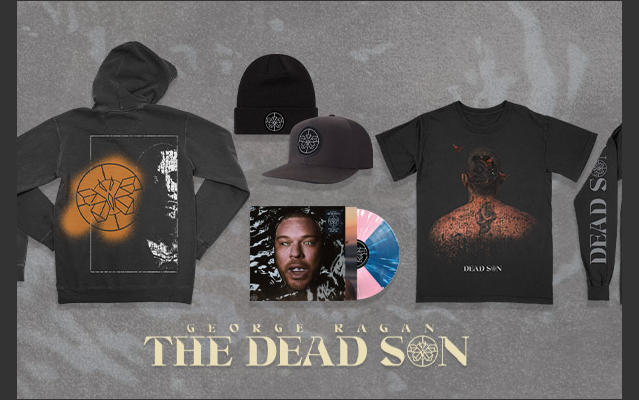 What's a new project without some new merch?  In case you missed it last week, Johnny 3 Tears of Hollywood Undead finally unveiled his solo project – George Ragan The Dead Son – a few days after the announcement, the project's merch store soft-launched on DeadSon.Store with six new listings, including apparel designed by Zero 9:36.  Let's break it down-
First up is our only media listing this round, a limited signed copy of The Abyss on vinyl, pressed on pink and blue-white vinyl.  This autographed version of the LP is limited to 500 copies.
The Abyss Signed LP (Pink/Blue) Limited to 500 cop
Our first official piece of Dead Son clothing merch, the Vandalism Pullover Hoodie in Vintage Black.  This hoodie features a Dead Son moniker across the chest, with a full-back print on the reverse.
Vandalism Pullover Hoodie (Vintage Black)
The next piece of apparel is the Metal Butterfly Long Sleeve in black.  Featuring Dead Son monikers printed down each sleeve and the Dead Son logo in a metallic style on the front side of the shirt.
Metal Butterfly Long Sleeve (Black)
Our first tee features a worn discharge print of the previously seen promotional artwork of George with gears and butterflies exposed in the back of his skull.
Finally, for keeping it warm during the chilly times/cool during the sunny time, the simple but suitable Metal Butterfly Logo Beanie and Snapback have got you covered no matter the situation-
Metal Butterfly Logo Beanie (Black)
Metal Butterfly Logo Snapback Hat (Grey)