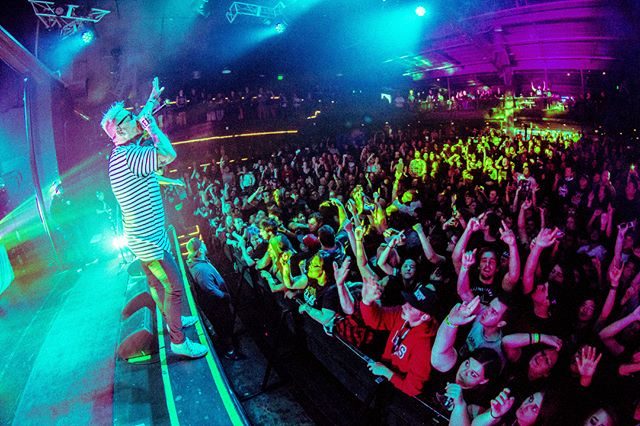 The 72 day North America 2017 Tour has come to an end, let's take a moment to relive the tour with this collection of social media posts chronicling the band's journey.
The tour featured support from In This Moment, Demrick, and Butcher Babies depending on where you caught a show, and even included a couple of festivals like Louder than Life and Aftershock.
The stage setup was changed up significantly for the first time in a while, now with a single drumkit and large lit palm trees, pyro, and a huge Hollywood Undead sign all decorated the band's sets from night to night.  The tour also gave us the first live appearances of the Five black/gold masks, and the red/white masks saw a return during the Canadian leg of the tour.
This was a tour of firsts, with band videographer Brian Cox joining the crew on the road, and really setting the bar high with the social media content he helped produce night after night for the band and their various accounts. This was also the band's first tour on their now independent streak, leaving fans wondering how things may change for the band, with them having left the labels behind and inking a new management deal along the way.
This tour was also a finale for others, being the band's last run with hired gun drummer and touring member Tyler Mahurin, at least for now.  The countdown to the band's much hyped fifth album also came to a conclusion, with the explosive release of Five just in time for Halloween.
The set-list morphed as the tour went on, while oldies like "City" have faded from the nightly gigs, fans were introduced to newer tracks like "California Dreaming" and other tracks like "Renegade" and "Riot" would follow after the album had enough time to get into the head's of the fans.  The intro to sets was changed with the addition of "Whatever It Takes", with members coming out bit by bit in stages as the song was performed, giving each band member their own personal audience pop.   Fans from all over the continent got to go up on stage and strut their shit and get punked by the band, and listener's were treated to a variety of covers including "Mary Jane's Last Dance" and "What I Got".
We've gathered a mountain of social media posts from our timelines, the band members, the crew, and more and put them in (roughly) chronological order so you can relive the entire tour from beginning to end.  We had a lot of fun bother covering tour news and attending a handful of shows ourselves, but for now the band and crew have earned some much needed rest as we head into the holidays before the 2018 tours kick in-
Message from Golden Beast #HollywoodUndead pic.twitter.com/jFhUZZKUhn

— Scene for Dummies (@scnfdm) September 30, 2017
You guys put on one hell of a show! It was great to meet you! ???????? @hollywoodundead pic.twitter.com/fVNg8Mzc66

— Krista G (@KgDbl89) October 1, 2017
Thank you for letting us fly the Undead flag today @LTLFest !!! ???????? pic.twitter.com/OLbikO1J0Z

— Hollywood Undead (@hollywoodundead) October 1, 2017
Tour starts tonight in ATL

— Demrick (@IamDEMRICK) October 1, 2017
Hollywood Undead: V North American Tour starts today in Atlanta, GA! Get your tickets at https://t.co/85mT4Lwjvh pic.twitter.com/BjBAzqfcSE

— Scene for Dummies (@scnfdm) October 1, 2017
.@louderthanlifefest thank you for having us!!!! Atlanta see you tonight at The @masquerade_atl! pic.twitter.com/M89PKeE1u3

— Hollywood Undead (@hollywoodundead) October 1, 2017
glad to have you out bro!! Let's get it!!!! https://t.co/q1fgrVq9Y7

— Hollywood Undead (@hollywoodundead) October 3, 2017
Orlando tonight! Tampa, Jacksonville, and Norfolk this week. Come thru. Tickets/VIP: https://t.co/gwhuy13q4y pic.twitter.com/riYTAVO5vn

— Hollywood Undead (@hollywoodundead) October 3, 2017
Thank you Orlando!!!
St. Petersburg, FL tomorrow ???? ???? ???? https://t.co/HHvzMlg07x pic.twitter.com/TpBPUFK2HF

— Hollywood Undead (@hollywoodundead) October 4, 2017
On @BTLSRadio NOW: @hollywoodundead joins us in-studio right now!

Tune in LIVE @ https://t.co/z9now3ygng

— Bubba Clem (@BTLSRadio) October 5, 2017
Photogallery: @hollywoodundead live in Orlando / photos by JR Rock Shots / https://t.co/fcSEFEvkub#hollywoodundead pic.twitter.com/QuYqLDKoow

— Scene for Dummies (@scnfdm) October 5, 2017
Hollywood Undead: V Tour. Get your tickets on https://t.co/85mT4Lwjvh #HU5 #hollywoodundead pic.twitter.com/vtvqD5tN9E

— Scene for Dummies (@scnfdm) October 5, 2017
Watch @hollywoodundead's performing live in Orlando: https://t.co/8mp9gGcTcJ #HU5 #hollywoodundead pic.twitter.com/FQ0AYkchPJ

— Scene for Dummies (@scnfdm) October 5, 2017
#LounderThanLifeFestival2017 @hollywoodundead ????: Sara Blankenmeyer pic.twitter.com/IwBfHDPH6h

— setlist.fm (@setlistfm) October 6, 2017
???? JACKSONVILLE FL // SEE YOU TONIGHT ????@MavericksJAX https://t.co/HhEEG6eynU pic.twitter.com/hABaAu5InF

— Hollywood Undead (@hollywoodundead) October 6, 2017
Norfolk was crazy!!! thank you to everyone who came out ???????????????? Charlotte, NC tomorrow ???? pic.twitter.com/RslOIvXyh9

— Hollywood Undead (@hollywoodundead) October 9, 2017
Photos of Hollywood Undead last weekend at Louder Than Life… https://t.co/BZ8r73k1fr

— frontrowreport (@frontrowsite) October 8, 2017
ICYMI: The band delivered a heartfelt cover in honor of Tom Petty last week- https://t.co/VBfFxmXioV

— Scene for Dummies (@scnfdm) October 9, 2017
Charlotte tonight // Pittsburgh tomorrow ????????https://t.co/rvsePnLnrD pic.twitter.com/KXB2Ll5MPK

— Hollywood Undead (@hollywoodundead) October 10, 2017
Thank you Chicago! CEDAR RAPIDS TONIGHThttps://t.co/RMmtwh1NWL pic.twitter.com/UTcQjKS37R

— Hollywood Undead (@hollywoodundead) October 13, 2017
Concert Review and Photos: HOLLYWOOD UNDEAD #ButcherBabies #Charlotte #HollywoodUndead https://t.co/W3X12JD7h0 @james_Geiser @AntiHeroMag

— AntiHero Magazine (@AntiHeroMag) October 14, 2017
The tour has been crazy so far… Sioux Falls, SD tonight!https://t.co/Gvm5WTrZGr pic.twitter.com/xswWLCXKuk

— Hollywood Undead (@hollywoodundead) October 15, 2017
Check out these photos from the @hollywoodundead show last night with @ButcherBabies & @IamDEMRICK!

????: @alyssaleicht pic.twitter.com/gs17bLqjmX

— Wooly's (@Woolysdm) October 17, 2017
Thanks to everyone who came to the sold out @hollywoodundead show last night with @IamDEMRICK & @ButcherBabies!

????: @alyssaleicht pic.twitter.com/GGkkbg1HeW

— First Fleet Concerts (@firstfleet) October 17, 2017
Thanks to everyone who came to the sold out @hollywoodundead show last night with @IamDEMRICK & @ButcherBabies!

????: @alyssaleicht pic.twitter.com/GGkkbg1HeW

— First Fleet Concerts (@firstfleet) October 17, 2017
Colorado Springs I'm at the Black Sheep tonight wit @hollywoodundead! Pull up wit the ???????????? let's smoke

— Demrick (@IamDEMRICK) October 18, 2017
From The Pit To The Crowd: Hollywood Undead with Butcher Babies and Demrick https://t.co/hSJSpIfJ05 pic.twitter.com/0Ip9fypXvo

— DreadMusicReview (@theDreadMR) October 18, 2017
Johnny and J of @hollywoodundead stopped by @KILORADIO Today. Catch them at @theblacksheep Tonight.#943KILO #hollywoodundead pic.twitter.com/gI6QgfByxO

— Sid Black (@SidBlackula943) October 18, 2017
Testing out them drums with @tylermahurin pic.twitter.com/Vd5dvwX6L2

— Scene for Dummies (@scnfdm) October 19, 2017
"If you see someone fall mother fucking pick them up" – @JDog_HLM pic.twitter.com/cSgnTeczwS

— Scene for Dummies (@scnfdm) October 19, 2017
Shoutout to all the roadies and crew that bust their asses every single night to get everything working for all of us in the audience. pic.twitter.com/6ZgmBlP99t

— Scene for Dummies (@scnfdm) October 19, 2017
Day of the Dead pic.twitter.com/LTXsMd4BX7

— Scene for Dummies (@scnfdm) October 19, 2017
comin for you pic.twitter.com/ygIJkw0x2P

— Hollywood Undead (@hollywoodundead) October 19, 2017
Going to SHUT DOWN the Knitting Factory in Boise tonight! Let's get it!https://t.co/gwhuy13q4y pic.twitter.com/DjSa4bnbca

— Hollywood Undead (@hollywoodundead) October 21, 2017
Boise lez go!!!! pic.twitter.com/Yjw89jH5Qo

— johnny 3 tears (@johnny333tears) October 22, 2017
@hollywoodundead with a crazy set! #aftershockfestival pic.twitter.com/eo4LSFeqjV

— 98 Rock (@Sacs98ROCK) October 22, 2017
awkward pictures but finally after 6 years of buying their albums and many shirts I finally saw and met @hollywoodundead pic.twitter.com/cGi0Tu9i6R

— Derek Paul (@DerekHU4L) October 23, 2017
Easily the most fun I've had at a show in a long time. @hollywoodundead killed it in Boise @knitboise!! ???????????? pic.twitter.com/TD9yhRDNL2

— Karen (@professorkarenh) October 22, 2017
#HU5 // 3 DAYS pic.twitter.com/Wftr2amrv2

— Hollywood Undead (@hollywoodundead) October 24, 2017
#HU5 // 2 DAYS pic.twitter.com/g9vMvgccPD

— Hollywood Undead (@hollywoodundead) October 25, 2017
Catch the @hollywoodundead on tour with @ButcherBabies thru 12/7 #Aftershock @AFTERSHOCKSAC https://t.co/c28dbP8nDK

— RSD Magazine (@RockstarDreams1) October 25, 2017
We can't wait to see Hollywood Undead tomorrow at the Roxy! #WarnerMusicU pic.twitter.com/RoD1uWbG2z

— Moorea Smith (@LA_Music_Now) October 25, 2017
#HU5 // TOMORROW pic.twitter.com/rZ28KAUSIK

— Hollywood Undead (@hollywoodundead) October 26, 2017
Special message from @HollywoodUndead before they take the @PearlatPalms stage TONIGHT ???? #VegasStrong pic.twitter.com/7wjcqub1yB

— Palms Casino Resort (@Palms) October 27, 2017
Q: Who goes go-cart racing before their show?

A: @hollywoodundead ????????????

Check out how the race went down on our Instagram Story ????palms pic.twitter.com/YNDgizo89J

— Palms Casino Resort (@Palms) October 28, 2017
LAS VEGAS – THANK YOU FOR RAGING WITH US!! Salt Lake City we will see you tomorrow!! ???????????? tix: https://t.co/gwhuy13q4y pic.twitter.com/JiepdwzLfR

— Hollywood Undead (@hollywoodundead) October 28, 2017
????@hollywoodundead Owned The @PearlAtPalms Stage Tonight! pic.twitter.com/aRsNmGiD1a

— Palms Casino Resort (@Palms) October 28, 2017
.@hollywoodundead a horror-ific good time at @Palmshttps://t.co/Q1FOEMrg6u

— Vegas Seven (@7Vegas) October 30, 2017
Shoutout to @hollywoodundead for an unbelievable show and thanks to everyone who rocked out @PearlatPalms ???? Until next time pic.twitter.com/jCwxTQSSfT

— Palms Casino Resort (@Palms) October 28, 2017
We Own The Night ???? @hollywoodundead #HU5 pic.twitter.com/5LvjJTNmty

— Palms Casino Resort (@Palms) October 28, 2017
Our new album FIVE is out now…which category should we be nominated? ????#HU5 #HollywoodUndead #newalbum pic.twitter.com/A3vjrbaIOf

— Hollywood Undead (@hollywoodundead) October 30, 2017
.@hollywoodundead and @butcherbabies at the @roselandpdx on Oct. 30, 2017 [Photos] @bluesjohn59 https://t.co/DKAXEDhGMD

— Vortex Music Mag (@vrtxmag) November 7, 2017
THANKS FOR KEEPING IT WEIRD, PORTLAND! ???? pic.twitter.com/wTTRoVhpkR

— Hollywood Undead (@hollywoodundead) October 31, 2017
Let's do this Canada! pic.twitter.com/37wS5FEwFK

— johnny 3 tears (@johnny333tears) November 1, 2017
Hollywood Undead last night at The Commodore.

Full gallery up at https://t.co/m8zVAdLidT…@hollywoodundead | @commodorevcr | @TheSnipeNews pic.twitter.com/hZuJLhGgUB

— Kelli (@kelliiianne) November 4, 2017
198 Amazing Photos of @OfficialITM + @hollywoodundead + @OMandM + @AVATARmetal in #Vancouver by @cryptic_photos https://t.co/p5F072WGTi pic.twitter.com/OM2Qb4MRd8

— Concert Addicts (@concertaddicts) November 4, 2017
CALGARY! You were on fire last night! Whatcha got for us tonight, EDMONTON?! ???? pic.twitter.com/mCsOIN3y95

— Hollywood Undead (@hollywoodundead) November 6, 2017
NEW PHOTOS –@hollywoodundead on the Blackcraft Stage – 2017 Aftershock Festival in Sacramento, CA. https://t.co/dmULv2ltnn #ScreamerMagazine pic.twitter.com/fCa12J915D

— Mikey Nolan (@MIKEY__NOLAN) November 6, 2017
.@OfficialITM, @hollywoodundead, @OMandM tore up @macewanhall on Saturday night, check out our photos! https://t.co/BTUwWuFwfy pic.twitter.com/H91fc9s093

— Under The Rockies (@UnderTheRockies) November 6, 2017
THANK YOU SASKATOON! ???? Tonight is our last Canada show of the year…let's see what you've got, WINNIPEG!! ???????? pic.twitter.com/HFPphydbs8

— Hollywood Undead (@hollywoodundead) November 7, 2017
@hollywoodundead photos are up over at @MRM_Magazine

https://t.co/eTliPOU7KQ pic.twitter.com/7RIjZtazge

— Arch Angel Studios (@ArchAngelPhoto) November 7, 2017
This show was full of entertainment! More photos coming soon of @hollywoodundead & @AVATARmetal last night in SK! Shot by: @Snelsey pic.twitter.com/qVZ4zjtCBW

— TandA Media (@TandA_Media) November 7, 2017
THANK YOU, WINNIPEG! ???????? pic.twitter.com/r640yK5AvP

— Hollywood Undead (@hollywoodundead) November 8, 2017
#stayblessed #fargo ????
????: @brian_c0x pic.twitter.com/nChBvhdyvo

— Hollywood Undead (@hollywoodundead) November 9, 2017
Photos: In This Moment, Hollywood Undead, Of Mice and Men at Commodore Ballroom. #Vancouver https://t.co/qp043sG6an pic.twitter.com/98PSbscw9P

— Aesthetic Magazine (@Aesthetic_Mag) November 11, 2017
THANK YOU to everyone in Canada who came out to see us with our friends…we will be back! ????????#hollywoodundead #HU5 pic.twitter.com/bhBb04NUz1

— Hollywood Undead (@hollywoodundead) November 11, 2017
OMAHA – you were so lit last night! #thankyou ???? pic.twitter.com/fzmyFEMnL7

— Hollywood Undead (@hollywoodundead) November 11, 2017
Tonight! @hollywoodundead lands in Milwaukee for a show at The Rave with @ButcherBabies + @IamDEMRICK.

Tickets available at the door / online: https://t.co/6RObQ5y2mm pic.twitter.com/s5GEQbp4P2

— The Rave / Eagles Club (@therave) November 14, 2017
Rocking performance by @hollywoodundead at @MythLive @KnittingFactory review and pics at https://t.co/giIevbdr6E pic.twitter.com/FGL5dbSuuH

— TwinCitiesMedia.net (@TCMdotnet) November 14, 2017
MILWAUKEE!! You raged hard with us tonight! We will see you tomorrow Grand Rapids!! Tickets: https://t.co/QohAkYTU6a pic.twitter.com/UIyNTTCxnd

— Hollywood Undead (@hollywoodundead) November 15, 2017
.@hollywoodundead absolutely ROCKED The Rave on Tuesday with @ButcherBabies and @IamDEMRICK! ????

???? → https://t.co/gQuQbVegRg pic.twitter.com/VJocvmlcxj

— The Rave / Eagles Club (@therave) November 17, 2017
Grand Rapids – Thank you for raging so hard with us! ???? #HU5 is out NOW! pic.twitter.com/eqqmrEy24D

— Hollywood Undead (@hollywoodundead) November 18, 2017
Fort Wayne, Indiana // 11.16.17 pic.twitter.com/QPudf9fOZa

— Hollywood Undead (@hollywoodundead) November 18, 2017
Thanks for having us Portland, Maine! ???? Clifton Park, NY tonight…who's here and ready to party? #HU5 pic.twitter.com/NZzXTqPXyS

— Hollywood Undead (@hollywoodundead) November 19, 2017
???? ROLL CALL! Who's coming out tomorrow night to see us with @IamDEMRICK and @ButcherBabies here in Stroudsburg, PA? LETS RAGE! ????
•
•
•
Tickets: https://t.co/QohAkYTU6a pic.twitter.com/15NbYNWnsj

— Hollywood Undead (@hollywoodundead) November 20, 2017
#HollywoodUndead playing a #SoldOut show in #RochesterNY at @AnthologyLive @hollywoodundead

An @AfterDarkEvents show
Full set of pics up at https://t.co/w6ib1o8h5e#ROC pic.twitter.com/qH3dTFrwlR

— Jim Conners (@ConnersJim) November 20, 2017
???? #WORCESTER ???? pic.twitter.com/voWwVP4DDV

— Hollywood Undead (@hollywoodundead) November 23, 2017
THANK YOU KNOXVILLE! ????
????: @NightcapStudios pic.twitter.com/uEymOq5zo4

— Hollywood Undead (@hollywoodundead) November 29, 2017
"I'm the fucker to blame for the Undead Army" – Charlie Scene / Riot #HU5 pic.twitter.com/Ax0Pd7vxCg

— Hollywood Undead (@hollywoodundead) November 30, 2017
See you tonight #OKC pic.twitter.com/6PIlDK0XY0

— Hollywood Undead (@hollywoodundead) December 3, 2017
???? Thank you for an amazing night #OKC! ????

LUBBOCK, TX // TOMORROW

Tickets: https://t.co/QohAkYTU6a pic.twitter.com/kIfP8Ir67T

— Hollywood Undead (@hollywoodundead) December 5, 2017
SAN DIEGO TONIGHT! Who's coming out to rock with us? pic.twitter.com/2L0rKPdLbg

— Hollywood Undead (@hollywoodundead) December 10, 2017
Check out our photo gallery if @ButcherBabies and @hollywoodundead last month at @thetrumankc #concertphotography #livemusichttps://t.co/RzUMW71e2h

— Central Mo News (@CentralMoNews) January 5, 2018
Who saw the epic scream off between Danny Worsnop and Charlie Scene last night?! pic.twitter.com/Y7GrZyHg8y

— Hollywood Undead (@hollywoodundead) December 10, 2017
@hollywoodundead @ButcherBabies rocked the hell out of @DelmarHallstl on Friday, 12/1!
More Pics: https://t.co/Lk2DFmSr8f pic.twitter.com/wQdloLe7vb

— Indie Image STL (@indieimagestl) December 14, 2017