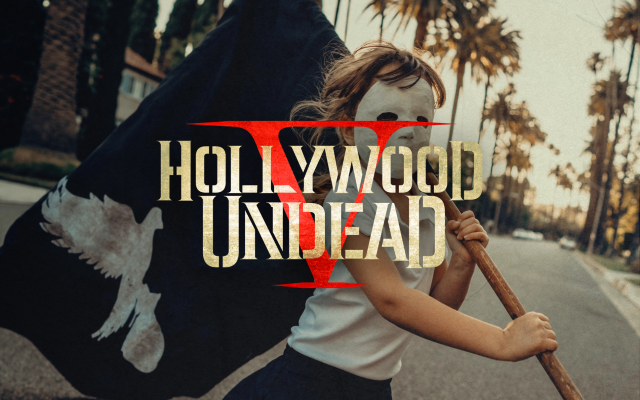 We're officially in the home stretch on the road to V, with just under a month to go before Hollywood Undead's latest record hits everyone's speakers and headphones.
If you've yet to pre-order, select retailers have announced their own exclusive bundles and offers for the album.
For starters, Best Buy returns to the fold with their exclusive album/bandanna bundle.  The bundle nets you a CD of V and a Hollywood Undead themed bandanna.  No sign of the actual bandanna or its design yet, but we will keep you posted!
Newbury Comics continues their tradition of offering an autographed version of the album.  Their exclusive run will feature the CD version of the album with the album booklet itself autographed by the band.  For some reason we aren't clear on as of this writing, this exclusive does not ship to California addresses.
Across the pond, Emp.De is selling bundles of either the CD or the vinyl version of the album that include an exclusive mask.  A mock-up of the mask from the store listing shows a white neutral face with the band logo printed onto the forehead.
Want some more V-themed goodies?  How about some merchandise?
First up we have a V themed zipper hoodie with the band's logo in red and white on the front, and a stylized red/white/black rendition of the album art and band name on the reverse.  For now fans can order this on Amazon.de or RecordShopX in Finland.
Amazon.de is also taking orders on the Dove and Grenade Spiral design t-shirt, which features the band's name and initials surrounded by a flock of dove and grenade logos.
Finally, we have the album's art replicated in T-shirt form, currently available at Amazon.de and Hot Topic.
We expect more offers and merchandise to pop-up as we get closer towards (and beyond) the album's launch date on October 27th.  Stay tuned to our social media channels for more info!