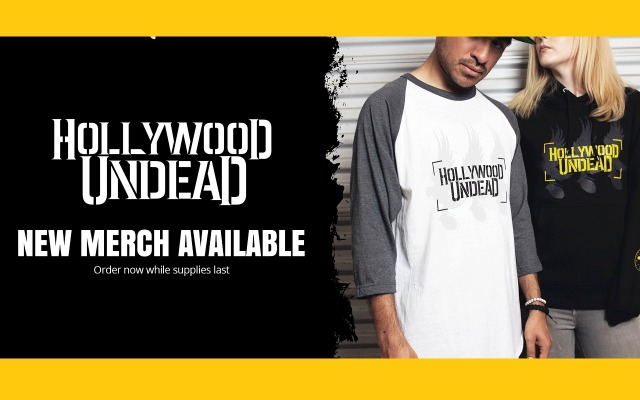 Following a bunch of Summer Holiday sales, the official Hollywood Undead store page has been updated with a couple new batches of merchandise for fans to grab.
First on deck is a new pair of snapbacks, the simple Undead design with classic typeface, or the Five snapback featuring the full band name on the front and album logo on the side.
Up next is a batch of new tees.  The Split Logo Tee features the familiar design of the band's Dove & Grenade logo with the HU initials.  Want to rep just the classic logo?  A new Dove & Grenade tee is also now in stock. The Dreaming Sunset design features yet another go at the Five album art done up in red, white and black.  Two more novel designs come in this update with the Shattered and Metal Mask tees, featuring broken glass with liveries for the band name and Los Angeles, and some new artwork of the band's Five masks respectively.
Looking for some longer sleeves for the cooler weather coming up?  The new Tri-Dove design is available in a white/charcoal raglan or black and gold hoodie with prints of the band's Five masks down the sleeve.
Don't want sleeves?  You're (un)covered with the new Comic Army Ladies Tank-
Fans can grab all of the merch listed above plus copies of Five and some older designs over on the official HU store page, while supplies last.