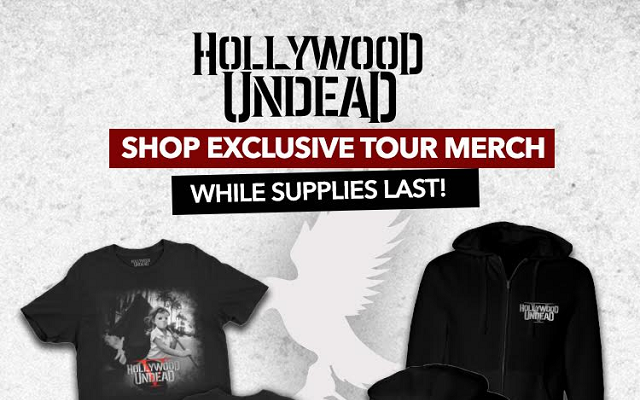 The official Hollywood Undead store has updated with a limited batch of tour merch available for immediate purchase!
The band took to social media today to announce that select items from their merch booth would be made available in limited quantities on their online store front, so grab it while you can folks-
Just got off the road and wanted to give everyone the chance to grab some of our tour merch.
THREAD YO'SELF UP https://t.co/Zhrf9vYdeQ pic.twitter.com/44tZFCqjIU

— Hollywood Undead (@hollywoodundead) May 9, 2018
As of this writing, there are three pieces left-
First up is the "Run With It" Hoodie, featuring the Hollywood Undead V on the breast and the same logo with the little girl album art encased in a circular print, currently available in sizes S-XXL-
Next up is the V Album Tour Tee, which features the album art on the front, with a full list of tour dates from the North America 2017 Tour on the reverse, currently available in S-XL-
Finally, there's the Black Logo Beanie, which sports an updated Hollywood Undead logo on one side of the brim, and a small dove and grenade insignia on the opposite end-
You can check all of these out and more on the official HU store.