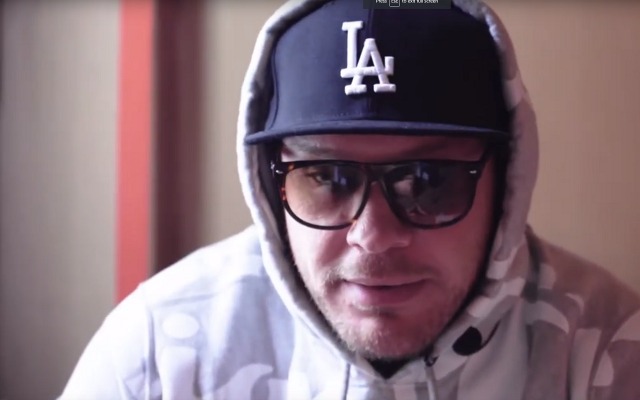 Today's interview comes from the New Empire Vol. 1 press cycle, courtesy of Laura Stempfer of Volume.
While the original article was transcribed in German, we've reproduced an auto-translated English version for our readers below, while German-literate fans can check the original text over on the official Volume website.
Hollywood Undead have a very special Valentine's present for you: their new album "New Empire, Vol. 1" will be released on February 14th, which they will present at the Gasometer in Vienna a week and a half later. George Ragan aka Johnny 3 Tears answered a few more questions for us and, among other things, clarified why the masked men have been seen so often without a mask lately.
"New Empire, Vol 1." will be released on February 14th. A random date or are you just hopeless romantics?
Definitely the latter. We are in a love affair with our fans and wanted to celebrate this special date with them.
How would you describe the "New Empire" that you introduce with your latest album?
I think it's about coming back to year zero. We tried less to build on the foundation of our previous work and more to approach the new record as if we had never recorded one before. At least that was the mission.
You had great success with your last releases. Why is now the right time for a new Hollywood Undead era?
Simply because we think it's exciting. Being in a band can easily become iterative. We want to make music from a position that is less familiar to us, because that demands more … and under no circumstances do we want to make the same album twice.
With "New Empire Vol. 1" you turn towards a harder, rockier sound compared to "Five" – why is that?
I don't think it was a conscious decision on our part to go in that direction. It was just where we were emotionally while we were writing New Empire. That energy was there, so we let it carry us. There are still some dark, melodic ballads on the album, but the record as a whole is a bit heavier – which was less of a decision, more of a natural development.
Can we with "Vol. 1 "expect a second part in the title in the near future?
Absolutely, "New Empire Vol 2." should follow shortly. They're both special in different ways, but great. Although I have to admit that I personally like "Vol. 2 "prefer.
We are excited. Can you tell us more about it? And why did you decide to release "New Empire" as a double album?
We just had too many songs that we didn't want to cut. We always write a huge amount of material and then narrow it down. This time after this process there was still too much left to put it all on one album. So we discussed this with the label and they agreed to try it that way. I'm actually very excited – I've wanted to put out a double album for a long time.
On "New Empire, Vol. 1" there are no typical party songs for you. Has Hollywood Undead finished with "Wine, Women and Fucking Around" or do these songs await us on "Vol. 2 "?
No, both records don't have songs of that nature. It's less because we're through with it … for now, we've just finished writing about such topics. For my part, I've always preferred to write songs with more introspection.
I noticed that you don't even have your masks on in the video for "Already Dead". Will we still see you with them anyway or are they part of your past?
To be honest, I am not sure. We don't have any plans for her at the moment. We just ran out of creative ideas for using the masks ourselves. However, I do not believe that they have disappeared from the scene forever. I know a lot of fans are disappointed that we don't use them at the moment, which I understand too. I am aware that many associate the masks with the band, but for us our identity has always been in the music.
Why are you your own worst enemy? And how do you deal with it?
In my opinion, we as individuals are the source of all our happiness or unhappiness. The vast majority of problems are created by humans. In my case, at least, most of the bad situations I have found myself in have been caused by none other than myself. The best way to deal with this is to accept that we all have faults and are lost in different ways, rather than punishing ourselves for them. I tried to make friends with myself and stop seeing myself as so negative.
"I just wanna live before I die" – What do you still have to do before the time allows you?
There are so many more things we want to achieve before we die. But we're not talking about professional goals in relation to that particular line. I believe we all have a higher purpose and we are trying to find it. It was more of a spiritual statement than anything else.
What's your worst nightmare?
Henry David Thoreau put it as "a life of quiet desperation". My life without a voice would be my worst nightmare. That's why music means so much to me.
"Compare me to none" – Does the music industry in particular rely too often on comparisons and confrontations?
I think society as a whole is obsessed with comparison – the music industry is no different. In terms of Hollywood Undead, it's probably simply because we can't really be pigeonholed. I don't know how to describe our music exactly. There are far too many rules that people in the music business use anyway. Music should bring freedom and not be bound by an insane list of rules.
We absolutely agree with you! Thank you for the conversation.