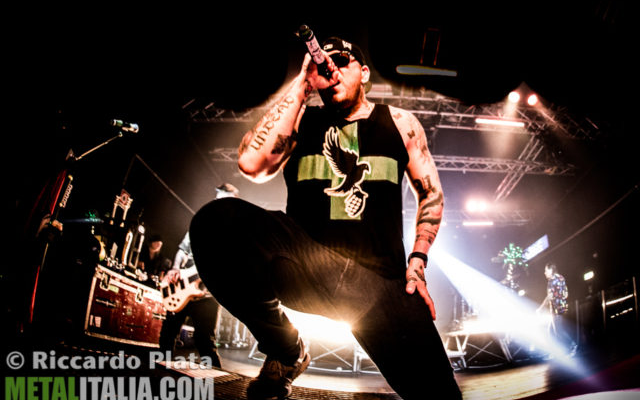 Just ahead of Hollywood Undead releasing New Empire Volume One and kicking off their European Tour with Papa Roach & Ice Nine Kills, Johnny 3 Tears took a moment to answer (literally) a couple of questions from Italian Metal news site MetalItalia.com.
The full text interview is available in its Italian text over on the Metal Italia website, but we've got an edited auto-translation of Johnny's comments about offensive lyricism in a new era plus his thoughts on Papa Roach's material embedded below.  Mind you this was probably translated from Johnny's original English responses into Italian for the original article, and then BACK into English by us, so the wording can get weird and not exact to what was said back in February.
Johnny 3 Tears of HOLLYWOOD UNDEAD stated the following about the possibility of writing today, in the 'Me Too' era, pieces such as "Everywhere I Go "…:
"I don't think we would write such a piece nowadays. To be clear: it is not a problem for me to offend someone or be offended, but one account is the offense, one account is 'to hurt'. There are some things that we wrote that, although obviously the intent was not that, I realize now they could hurt someone's sensitivity, so nowadays I wouldn't write lyrics like in "Everywhere I Go" or even "Undead ". Someone could misunderstand its meaning and it is the opposite of what we want, because music must unite not divide. We can be aggressive in our lyrics, but without getting hurt. "
Regarding the imminent date with PAPA ROACH at the Alcatraz in Milan on February 20:
"There will certainly be the classics and some pieces from the new album: probably also something together with Papa Roach, but I don't want to spoil the surprise. My favorite album? It is probably "Infest", for emotional reasons related to when that album was released, but from the songwriting point of view I also really appreciate "F.E.A.R.", an experimental and full of ideas ".