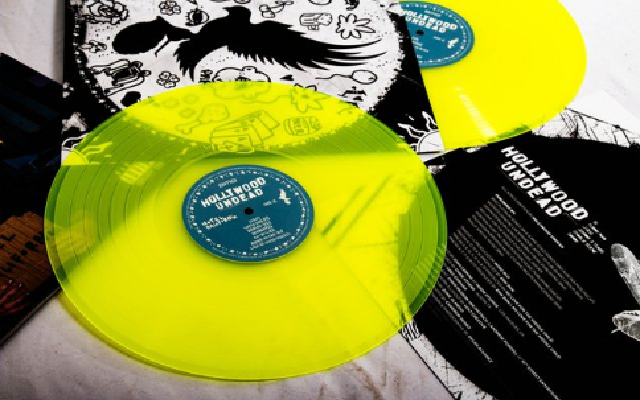 Thanks to our own German Padilla, we've got some high quality shots of the Hollywood Undead merch booth on the Hollywood & N9ne Tour.  The official HU store has also updated with limited quantities of a variety of the items found in the tour merch booth. 
First off, for tour-goers, here's some quick shots from German including prices, etc. for the various pieces of merch available on tour.  The merch includes a mish-mash of original tour designs as well as items from various past online drops on the merch store-
Hollywood Undead – Hollywood & N9ne Merch Booth
Next up, we've got official renders for a variety of the same items, which are currently in stock in limited quantities on official store page, check out the gallery below as well as dedicated order links-
Hollywood Undead – Hollywood & N9ne Tour Merch
Hollywood & N9ne 2023 Tour Tee (Black)
Lightning Storm Dove & Grenade 2023 Tour Tee
HK Collage Longsleeve Shirt (Black)
Stacked Dove & Grenade Logo Tee (Dye)
Circle Logo Anorak Jacket (Black Camo)
Dove & Grenade Coaches Jacket (Black)
Undead Script Cuff Beanie (Red)
Hollywood Undead Script Snap Back Hat
California Dreaming License Plate Frame (Black)
Dove & Grenade Die-cut 8″ Window Decal
Dove & Grenade Bumper Sticker (Black)
Finally – for all the vinyl collectors out there, we're able to confirm that the Hotel Kalifornia vinyl currently being sold at the merch booth on tour is a brand new pressing, that is so far exclusive to the tour (no dedicated page on the online store) featuring translucent yellow vinyl.
Mask 2023 Tour Tee (Black)
Hollywood & N9ne 2023 Tour Tee (Black)
Lightning Storm Dove & Grenade 2023 Tour Te
Hollywood Undead – Hotel Kalifornia Hollywood & N9ne Exclusive Vinyl